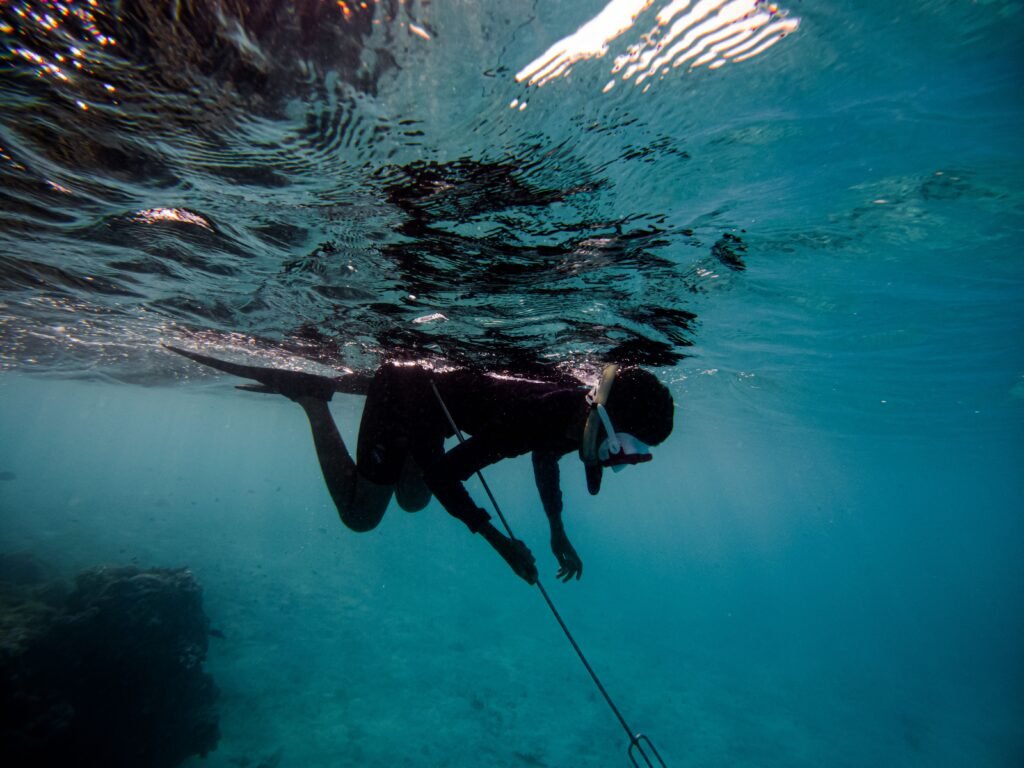 If you've spent any amount of time scouring the Internet for information on local dive spots and spearfishing, you've likely come across several wonderfully detailed guides and spear tips that dissect every aspect of the sport. While we love these guides, let's face it, not everyone has the time for a 6,000-word epic. Having said that, there's a growing movement towards sharing resources that help people quickly get up to speed on the latest free diving and marine life tips and tricks. We're happy to join this movement and share with you spearfishing tips (all the fundamentals ) to help you choose the right gear for your next trip.
After all, it's hard to enjoy catching your tasty dinner if you don't have the proper gear (spear gun,spearfishing wetsuit, float line, rubber bands, pneumatic guns, dive knife, lateral line, good mask etc.)!
5 Tips for Choosing the Right Spearfishing Gear
Pick the Right Spear
If you have just started spearfishing, one of the most important considerations when choosing a new piece of pole spear gear is its usability and price point. For most people, a weapon-style spear like the Avanti Power Spear from Neptonics is a perfect fit. It's affordable, and its stainless steel construction makes it durable and rust resistant. However, if you plan to go spearfishing in deeper waters with water temperature or you're going to utilize spear guns, you may want to invest in a long spear shaft version with a powerful recoil.
Start with the Right Fins:
Beginners with zero learning curve will do best with basics e.g open-heel or plastic fins that allow their feet to breathe when submerged. These fins are usually more comfortable, while closed heel fins are more appropriate for more experienced divers who can breath hold longer in all types of underwater dive spots.
Choose the Right Weight Belt for You and Your Scuba Diving Gear:
When choosing a weight belt for scuba diving, there are many factors to consider, such as the type of scuba gear you have, your experience level, and the type of diving you will be doing.
One thing to remember is that a weight belt or the Hawaiian sling is not always necessary. In some cases, such as when using a dry suit, the extra weight can make it more difficult to stay afloat. If you are unsure whether or not you need a weight belt, it is best to consult with an experienced spearo or snorkel instructor.
Choose Harnesses and Wetsuits That Make You Feel Comfortable:
Harnesses and wetsuits are two of the most important gear for spearfishing. They not only keep you safe and comfortable in greater depths, but they also provide the necessary buoyancy to help you float and move through the water. When choosing a harness or wetsuit, it is important to consider your comfort level and make sure that you select a piece of gear that will not restrict your movement or cause you discomfort.
Additionally, when selecting a harness or shallow water wetsuit, it is also important to consider the local laws and regulations regarding fishing. In some areas, there may be restrictions on what gear can be used, so it is always best to check with local authorities before heading out on your next spearfishing adventure.