#5. Harley-Davidson Men's Seth Motorcycle Boot ($106 @ Amazon.com)
Whether you're a biker or you're just a fan of Sons of Anarchy, these Harley Davidson boots will help you look the part. They're full-length cushioned sock lining keeps them comfy while the soles — which are constructed from the same rubber found on Goodyear tires — are oil and slip-resistant.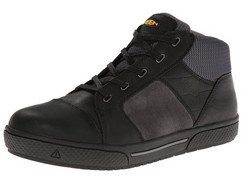 #6. Keen Utility Men's Destin Mid Steel Toe Boot ($120 @ Amazon.com)
Boots don't exactly fall in the category of casual wear, though the Mid Steel Toe Boot by Keen Utility is most certainly an exception. In fact, it's so casual that it's the de facto footwear when it comes to all-purpose shoes. Feel free to slip it on whether hanging out with your bros or taking Cujo for his afternoon walk in the park.