(FAUX) LEATHER: MICHAEL KORS ($195)
Soft, supple, buttery and … vegan. Read: No read paint will get splashed on you by PETA enthusiasts. (Or it'll be in error if it does happen.) This grey moto jacket from Michael Kors has all the attitude without any of the superfluous bells and whistles that make some similar jackets feel (and sometimes look) junky.
Pair this easy grey with black or dark denim and a white tee for that James Dean look. Bonus: it's machine-washable, so theres no reason to avoid visiting Chipotle anymore.
Find it here: http://bit.ly/1hd7RUg
Also: Before you buy another polo shirt …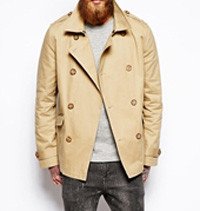 TRENCH: ASOS ($103)
Double-breasted, khaki, designed by London-based British brand Asos' in-house menswear team, and under $110. Pretty much the perfect trench.
This modern version ditches the often cumbersome belt and comes cropped so that you don't look like you're wearing a khaki bathrobe. The contemporary shape makes it easy to wear both in more formal business settings and on rainy spring weekends.