J. Hilburn Dress Shirts ($90 and up)
J. Hilburn makes bespoke, tailor-made clothes affordable for the 99 percent. They'll even take care of the legwork by sending a trained style advisor to your office to take your measurements, let you check out different fabrics, and discuss which styles might best fit your frame. Some designs start as low as $90, which is just a little more than you'd spend for an off-the-rack button-down that wouldn't fit you nearly as well as a shirt designed just for you.



Under Armour E39 Compression Shirt ($TBD)
The E39 has a removable sensor that can track data like heart and breathing rates, g-force, and horsepower output (seriously). It also has a triaxial accelerometer, which means it can track how your body moves. The data can then be stored or sent to a smartphone, tablet, or laptop to monitor progress or target problem areas in training.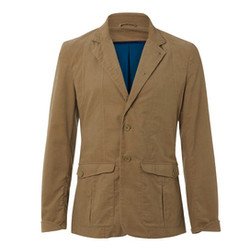 Brompton Oratory Jacket ($400)
If you like to bike to work but don't want to dress like you bike to work — or stuff your work clothes into a backpack — consider this water-repellent and stylish jacket. It features reflective detailing cleverly hidden under the lapel and on a drop-down flap on the back, so that once you're off your bike, you won't be reflecting the lights in the boardroom. The result is a classic two-button blazer that's versatile enough to wear while commuting, working, or going out for cocktails.


MORE EVOLVE AWARDS:
Automobiles
Shaving & Skin Care
Spirits
Entertainment
Gadgets & Toys
Outdoor Gear
Hair Care
Accessories
Mobile Apps
Smelling Good