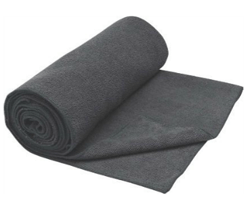 #.3 Athletic maxTowel ($29 @ gaiam.com)
Whether performing "hot yoga" or any other athletic activity, perspiration is inevitable with an effective workout. The generously large maxTowel was created to offer twice the absorbency of cotton towels. The hypoallergenic microfiber fabric also dries in less time.



Also: Ultra-Manly Grooming Tools For Guys
#4. Champion Men's Powertrain T-shirt
The unique style of these polyester T-shirts include softer, lighter fabric that wicks away moisture. Flat seams ensure comfort. The shirt acts like a second skin while performing yoga poses.

#5. Soffe Men's Long Polyester Mini-Mesh Short ($12 and up @ Amazon.com)
Machine washable, the lightweight, polyester mesh shorts feature an elasticized waistband, drawstring and long baggy legs. Cut for comfort, the fabric helps keep men cool and dry while allowing freedom to move in all directions.