Why do people opt for natural toothpaste? For the same reason they go with natural deodorants — fewer chemicals they rub into their already chemically-oversaturated bodies. Believe it or not, while some toothpastes scrub the plaque and tartar from your pearly whites (or in most of our cases, faded yellows), they're also doing it with chemicals like sodium lauryl sulfate or fluoride. And that might not be so amazing for you if you enjoy feeling like a human being.
Also: The Best Natural Shampoos For Men
Some people have been known to suffer from skin irritations, rashes, or otherwise have a negative reaction due to the toxicity of some of the chemicals. It doesn't happen to everyone, but switching to a natural toothpaste might remove the issue altogether. Need some help finding a natural paste for your teeth and gums? Here ya go …
#1. Tom's of Maine Antiplaque and Whitening Fluoride Free Toothpaste ($3 @ Amazon.com)
This natural tooth goop gets its flavoring from xylitol, a natural sweetener derived from corn and birch trees. Xylitol is beneficial to oral health, by preventing tooth decay and cotton mouth. (Things other than smoking weed can cause this, you know.) Hydrated silica gives Tom's of Maine toothpastes an appealing texture and consistency. This toothpaste also contains the natural preservative benzyl alcohol.
Also: 6 Natural Mouthwashes For Men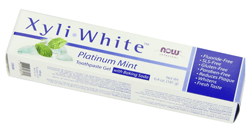 #2. Now Foods Xyliwhite ($3 @ Amazon.com)
Fluoride-free and using xylitol to improve oral health, Xyliwhite contains no form of sodium laurel sulfate, and relies on baking soda for whitening power. It is also paraban and gluten free.