The Best Lubricant For Guys
It's tricky to find a well-balanced lubricant that keeps your intimate areas slick without leaving stains or fingers than feel as though they've been sprayed by a Dilophosaurus — that weird dinosaur that killed Newman in Jurassic Park when it's time to wipe the sweat off of your brow …
Whether your preference is silicone-based, water-based, or somewhere in between, there's a lubricant out there perfect for your pleasure. Here's a list of six of the top-rated lubricants that you can order off of Amazon:

Wet Platinum is a 100% silicone-based lubricant that's latex-friendly. This product is great to use in the shower or other underwater adventures, and it won't break down condoms!
Pros:
Long-lasting 100% pure silicone-based lubricant.
Odorless and hypoallergenic.
Cons:
May break down silicone toys.
Messy and can leave stains.What others say:
Reviewers say …
"THE BEST! Stays slippery, as opposed to water-based lubes like Astroglide or KY, which can get tacky."
"She says, it lasts. He says, it is not so slippery that he cannot feel anything. This lube provides the perfect balance."
Velvet Rose is a water-based lube that mimics your body's natural wetness. This silky smooth lube safe to use with condoms, toys, and it's tasteless and odorless.
Pros:
Easy to clean with soap and water.
No additives, artificial flavors, odors, or harmful allergens.
Cons:
May leave sticky residue.
Needs to be re-applied.
Reviewers say …
"Best product ive used. Will be a customer for life!"
"Fantastic lube! I have skin sensitivities and I can't use oil-based lube. This product is safe for me to use and it stays smooth."

If you want a lubricant that looks and acts like semen, Spunk is perfect for you. This hybrid lube is both water and silicone-based. Great product to add a little "spunk" to your sex life.
Pros:
Silicone and water-based hybrid.
Safe to use with sex toys of all materials.
Cons:
Doesn't last as long as pure silicone lubes.
Does have a scent.
Reviewers say …
"Slick and easy to use with the handy pump top."
"This is my go-to hybrid lube. Silicon toys hold up to it too. Last long and smooth as spunk!"

Nooky Lube is water-based and petrochemical-free, glycerin-free and paraben-free. The silky smooth gel is easy to apply and great for those with sensitive skin.
Pros:
Colorless and tasteless, easy to clean up, rinses off with water.
Safe to use with toys.
Cons:
Needs to be re-applied.
Container's small pump makes it difficult to use.
Reviewers say …
"Love the packaging, sexy, and discreet. Huge bottle for such a good price."
"This has to be some of the best lube I've ever used!"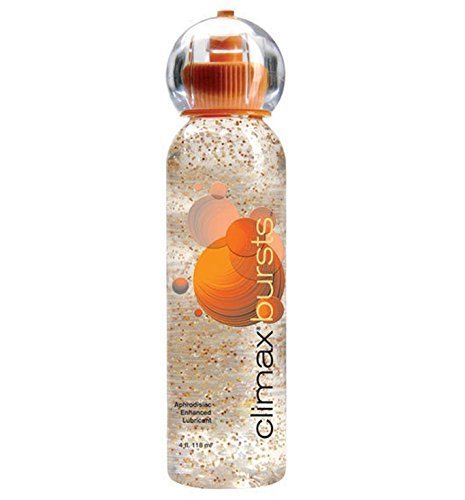 Unlike most water-based lubes, Climax Bursts contains orange beads of vitamin E enhanced with yohimbe and horny goatweed. This lube is also glycerin-free.
Pros:
Warming effect.
Feels great for men and women.
Cons:
Not very lubricating.
Beads can irritate sensitive areas.
Reviewers say …
"This orange bottle does warm better than most high dollar lubes."
"My wife and I love this stuff, the bursting beads are very interesting and feel amazing for us both."
If you are looking for a healthy, all natural lubricant, Naturalico Organic Intimate Lubricant is perfect for you. This 100% organic gel lubricant is aloe-based, paraben-free, and enriched with Tremella Fuciformis extract, a natural ingredient that is beneficial for blood vessels and regenerate your skin.
Pros:
Great for sensitive skin and vaginal dryness due to menopause.
Super easy to wash off with just soap and water.
Cons:
Poor packaging, shipped in a manilla envelope.
Needs to be re-applied and can get sticky.
Reviewers say …
"I have very sensitive skin. I'm so afraid of trying anything new. This is great stuff."
"Feels more "natural" than the leading brands."