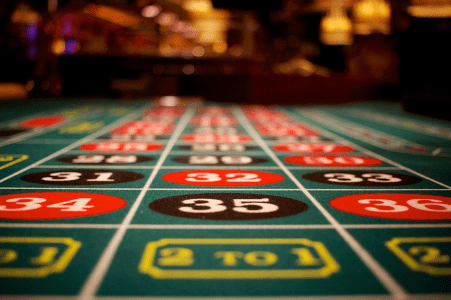 What's a better way to pass the time than a nice game of Roulette? Well, what if we told you that you could play Roulette online for real money? You wouldn't believe us would you – but it's true! Keep reading to find out more about our top picks for online Roulette games!
Club Roulette
This version of Roulette aims to transport you all the way back to 18th century Europe, with a classic table format and a jaunty atmosphere. As you enter this virtual casino, you'll be faced with the European version of the infamous Roulette wheel and that ever-tormenting little white ball.
Club Roulette is the perfect online gaming venture for even the newest of Roulette players, with very little risk involved, as the minimum stake is a rather reasonable £0.01. Not to worry if you're more of a high-roller, as there is also the chance to bet up to £250 – so there's a game fit for everyone! Next, you must start spreading your chips around the table, deciding on what you want to place your coins on. You will have the choice to bet on either an individual number between 0 and 36, or a group bet which includes red or black, odd or even and dozens. All you have to do to make your selection is click on the area of the table that contains the bet that you wish to make, and another chip of your chosen value will be placed onto that space. If you want to increase, or decrease your bet, then simply choose a chip of your preferred value. It's that easy!
If that isn't quite enough to peak your excitement then not to worry, as Club Roulette has another trick up its sleeve. The special bets button allows you to place slightly more unusual bets than you'd expect from the base level game. These bets allow you to make plein (straight) bets and cheval (split) bets, on a whole range of numbers using the smallest number of chips.
Dragon Jackpot Roulette
This version of Roulette is more of a battle than a sophisticated trip to France. The threat of the mystical beast looms over players, as you're pushed to make your decisions quickly. The game itself focusses entirely on player choice, with an RTP value of 97.30% – just to make the game that little bit sweeter.
The main attraction of this version of Roulette is most definitely the bonus features. As the game begins, you can place up to 12 Dragon Bonus tokens on each spin of the wheel. If the ball happens to land on both a regular and Dragon Bonus token then the roars of the beast will be heard and the bonus game will begin! As you will see, the bonus game consists of two stages, the first involving the inner wheel spinning to unlock either the two additional pointer, free re-spins, or a 2x pay multiplier. After a choice has been made, the inner wheel will expand, leading you into a world of even bigger multipliers and impressive wins!
Next, you need to look out for the Dragon Jackpot. This progressive sum can be won on any spin, whether it results in a win or lose result, although, the higher the stake, the higher your chances will be of triggering the lucrative dragon's appearance.