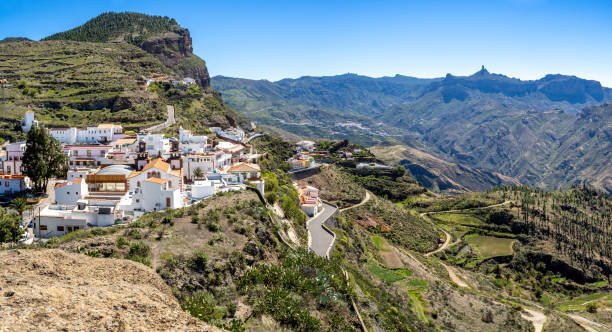 The Canary Islands are a wonderful choice when it comes to deciding where to go on holiday. No matter whether you want the beach, great nightlife, fantastic food, beautiful architecture, or fascinating history, this area can offer it to you. But what can often be even better is when you discover the little-known places that can really make a holiday special. With that in mind, here are some of the hidden gems of the Canary Islands to show you just what you might find when you go.
Teide National Park – Tenerife
Tenerife's most beautiful and unspoilt spot is Teide National Park, where the island's namesake renowned volcano and Spain's highest peak can be found. Take a cable car ride with a local expert guide as part of a full tour of the island to get the clearest view of the otherworldly landscape around Mount Teide. This is a great spot for a day trip when you have travelled to the area with P&O Cruises.
Guayadeque Ravine – Gran Canaria
Located approximately forty minutes from Las Palmas, in the municipality of Ingenio, lies the Guayadeque Ravine which is both spectacular and lush. It's an excellent spot for a leisurely stroll or a short hike. And if you visit in the late winter, you can witness the stunning beauty of almond tree blossoms.
A museum detailing the history of the local indigenous people and the local flora and fauna can be found near the ravine's entrance. In addition, there is a short yet stunning hike that crosses the ravine. And, you can climb deeper into the ravine or embark on one of the other longer trails and learn much more about this enchanted area. Make sure you eat at the special cave restaurant while you're there.
La Graciosa – Lanzarote
Orzola, a little fishing town, can be found at Lanzarote's northernmost point. From here, passengers can board a ferry that will take them to the little island of Isla Graciosa. These beaches are great for a day trip away from the city.
Mirador del Ro is another must-see landmark, and it offers breathtaking views of Isla Graciosa from high up on a cliff. Among the Canary Islands, this is undoubtedly where you can find the most breathtaking view.
Masca Village – Tenerife
You can get far away from the resorts (and the crowds) on Tenerife in the little hamlet of Masca in Teno, which is located in the island's northwestern corner. Masca is an Ethnographic Historic Place of Interest because it is representative of the island's rural architecture and cultural traditions. There are colourful stone buildings, artisan stores, and cobblestone streets in this, one of the highest communities in Tenerife, which is framed by a protruding rock. The three- to five-hour journey to the settlement passes through breathtaking valleys and up hills covered with native vegetation and fauna.
El Hierro
El Hierro's contrasting volcanic landscape, lunar-like backdrops, lush greenery, and ultra-clear lakes make it a wonderful outdoor playground for cyclists and hikers. In addition, UNESCO classified 60 per cent of the island as a Biosphere Reserve in the year 2000, meaning that it has remained relatively unspoiled by mass tourist traffic.
El Hierro's modest population of over 10,000 inhabitants (most of whom live in the island's handful of quaint towns and villages) makes it a great destination for those looking to unwind. El Hierro, known as the "best kept secret" of the archipelago, is also home to some excellent regional dishes, particularly in the island's capital of Valverde.