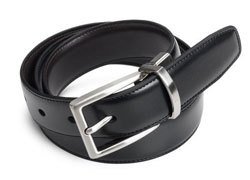 Why a reversible belt? Because it gives you options. If not color options, options to hide a scratch or stain or scuff — you know, just like you do with your couch cushion after drunkenly spilling a beer on it. Even just flipping the buckle gives you more styles without you having to spend more cash on another accessory. That's why when it comes to belts, we tend to splurge a bit on the reversible. When you get a twofer, it's justifiable.
Pictured: #1. Nautica Reversible Black/Brown Belt ($27 @ Amazon.com)
This leather number from Nautica flips from black to brown (or vice versa) and can either strengthen a casual appearance or gussy up a lackluster one with little effort. The buckle is made of satin nickel and can flip over to provide style options.
#2. Tumi Men's Signature Leather Reversible Belt ($87 @ Amazon.com)
This reversible belt features classic black leather on one side and brown leather on the other with the subtle pattern of Tumi's classic "T" design. This French-made belt pairs great with jeans for dates and casual Fridays. It's also a solid pick during shorts season.