The snow has fallen. The ice has set in. And the snow has fallen again. Now you're like thisclose to cabin fever. So when you're finally able to leave the house during rough winter weather, you're better off strapping a durable, well-constructed winter boot instead of running shoes, which become flimsy slippers once the snow soaks them. Your toes will thank you (since they won't fall off due to frostbite), and you'll look stylish. That's what we like to call a win-win.



#1. Oliberte Adibo Pullup ($75 @ Oliberte.com)
The Adibo boots are made by hand out of ethically sourced leather. That might not let you off the hook with a PETA-supporting girlfriend, but it should still earn points. The Adibo's black seen on the upper is contrasted by the lighter red of the raw edges, which transforms a natural aspect of the construction into its own design feature. These short boots come up just to the ankle and have rubber soles. As for comfort, we purchased insoles for some added padding. A small price to pay for a sporty and durable boot.



#2. Sorel Caribou Wool Boot ($160 @ Amazon.com)
Sorel is notorious for manufacturing some of the best boots for men. Why? Because the full-grain leather and waterproof upper functions help to keep the elements out while the removable, felted wool InnerBoot keeps warmth in. Read: Your tootsies will be nice and cozy wozy. All that warmth would be nothing without traction to keep you from falling on your ass every time you take a step. Enter Sorel's AeroTrac technology. Now when you're at the cabin, you can traipse out in the snow in your swim trunks confident that your feet will stay warm and grounded.
#3. OluKai Honolulu Boot ($180 @ OluKai.com)
The Honolulu boot is a breezy interpretation of the classic professional men's shoe. Its sleek design is authoritative, but the detailing suggests after-hours fun. The leather upper wicks away moisture. These boots also feature non-marking rubber soles and antiqued metal detailing for a touch of subtle worldliness. Above all, they're comfy. A boot that's both stylish and comfortable and kick inclement weather's ass and feel good afterward gets two thumbs up.



#4. Timberland — Earthkeepers Rugged Side-Zip Boot ($100 and up @ Amazon.com)
Timberland is known for their tough and durable boots, and the Earthkeepers Rugged Side-Zip boot does not disappoint. Aside from an easy slip-on silhouette and waterproof upper, the lining is partially comprised of recycled plastic bottles making it a smart and responsible choice. Anti-fatigue comfort technology keeps your feet comfortable for all day wear even if it's all day spent walking between your desk and the water cooler.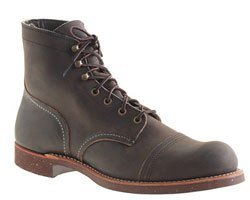 #5. Red Wing  Iron Ranger ($275 @ Amazon.com)
The Iron Ranger by Red Wing, made for J.Crew is rugged enough to wear while out doing manly tasks in your flannel-lined Carharrts, yet fashion forward enough to wear with a pair of straight-legged jeans while out on the town. Touting an oil-resistant sole and detailed stitching, the Iron Ranger looks as badass as it sounds. But despite being one of the best boots for men, we wouldn't recommend putting it to extreme tests, like dropping grisly bears or putting them on your hands and hiking to Mordor.
#6. Gucci Trek Boot ($400 @ Amazon.com)
When it comes to winter gear you should always choose function over looks. Well, unless you don't like staying warm and dry…in which case, you probably have hypothermia. With the Gucci Trek boot, you can have it all, as great looks meet high function. This Italian made boot boasts deep rubber lugs for excellent traction while the upper's leather and mesh design keeps the foot dry and snug. Plus, the green/red/green signature web loop pull shows just a hint of Italian pride.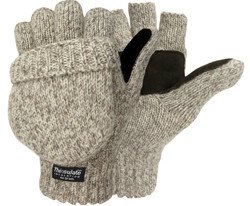 Keep Gearing Up for Winter: Great Men's Gloves For Winter
Want to keep your fingers toasty this winter? Then you'll need to own a quality pair fo winter gloves.