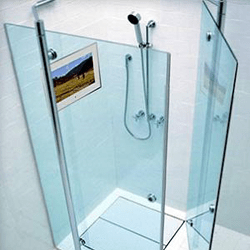 Aquavision Frameless Television
Even if you had the perfect water pressure, the perfect temperature, something would still be missing in your shower. Guess who?
A television.
Aquavision is the original bathroom TV and the leading manufacturer of waterproof, flush and in-wall televisions, which means they've given this a lot of thought — and their products are crafted with some sick features specifically to combat bathroom conditions, like heated screens to avoid misting. They're also specially designed with an ultra-slim profile so that it's easy to build them into any studded or solid wall.
Next: Your iPod in the shower