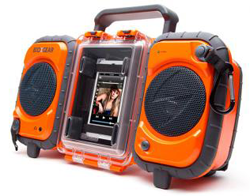 Ecoterra Rugged & Waterproof Boombox, $150
It's OK to sing in the shower, especially if it prevents you from singing in public. Thing is, shower radios tend to be irritatingly tinny, while plugging in a stereo and bringing it into the tub with you can be irritatingly deadly.
Luckily, the $150 Ecoterra Rugged & Waterproof Boombox solves all of your wet musical needs. Thanks to this waterproof boom box that can hang in your shower — or perch nicely on the side of your tub — you can enjoy the latest hits while your iPod is strapped safely in the Ecoterra's internal waterproof storage compartment.
Next: Waterproof writing