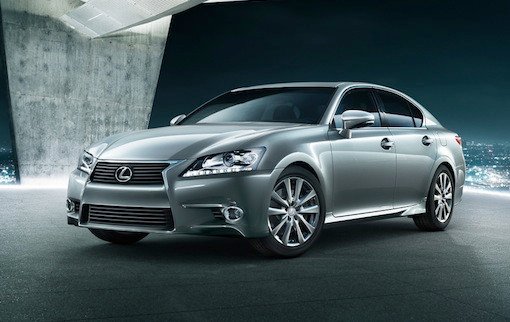 For years, the Lexus 350 played the part of an also-ran in a competitive market segment that included the formidable BMW 5 Series and Mercedes-Benz E-Class. It wasn't all that inspiring a car, and so relatively few people were inspired to buy it. Lexus, understandably, saw that as something of a problem. And the extremely redesigned 2013 Lexus GS lineup aims to correct it.
Our first thought upon climbing behind the wheel of the car? Watch out, BMW and Mercedes. Anyone shopping for a luxury sedan in this price range — the GS 350 starts at $46,900 — now has to give Lexus a long, hard look. And if you ask us, the standard GS is terrific and the GS Hybrid is upscale eco-cool on wheels, but the F Sport (it starts at $53,465) is the way to go. The package offers an array of performance options, including stiffer adaptive variable suspension, and a Dynamic Rear Steering system that actually turns and aims the back wheels to improve cornering and stability. Inside, the F Sport is all brushed aluminum and yards of leather; for lack of a better word, it feels manly.
The GS is powered by a new 3.5-liter V6 that cranks out 306 hp and 277 lb.-ft. of torque. It provided us with a wealth of low-end torque and proved to be perfect for freeway cruising, even at speeds that exceeded … traditional freeway speeds. The car's Drive Mode Selector offers up Normal, Sport, and Eco modes. (We admittedly didn't utilize the Eco mode, and we were pushing the car fairly hard, but our gas mileage was still worryingly far below the quoted 28/19 mpg numbers.) Turn the F Sport's controller knob to Sport Plus, and two things happen: First, an outline of the GS shows up on the massive 12.3-inch display screen, with the shocks, steering wheel, and engine highlighted. Second, and more importantly, the F Sport becomes even more fun to drive. Like we said — look out, BMW and Mercedes.