Baseball and drinking go together like … pretty much any sporting event and drinking. Having a few beers at the stadium is great, but it can easily end up costing twice as much as the ticket. Plus, many ballparks stop selling beer long before the game ends. If you're looking to keep it going after a pleasant night (or day) of baseball, most ballparks are within throwing distance of several drinking dugouts. So we picked out the best stadium bars in baseball, which we're presenting by division.
The Best Stadium Bars In Baseball: AL East
(The best stadium bars in the NL East, NL West, NL Central, AL Central, AL West.)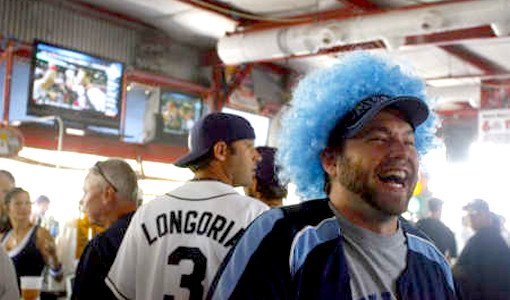 TAMPA BAY RAYS | TROPICANA FIELD
Twenty years ago, the only place to get juiced near the spot where Tropicana Field stands was a Sunoco gas station. But then Ferg's Sports Bar & Grill opened in anticipation of the professional baseball team that eventually moved in across the street, and is now a two-floor, 12,000-square-foot, 70-HDTV-bescreened post-game stadium in and of itself.
Backup bar: Even though there was no local team to support until the late 1990s, Mastry's boasts more baseball history than most bars on this list, serving patrons like Babe Ruth and Mickey Mantle throughout springs dating back to the 1930s.