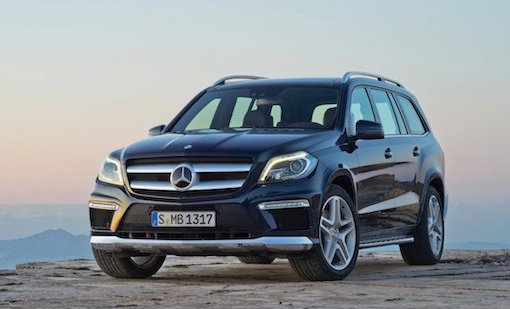 I'm pretty much hanging off a cliff on the side of a mountain somewhere outside Taos, New Mexico, but it's not as bad as it sounds. That's because I'm sitting inside a loaded-to-the-gills diesel-powered 2013 Mercedes-Benz GL350 BlueTEC 4MATIC. So while it's been raining on and off all day and the dirt road is turning into a Slip 'n Slide of muddy ruts, I don't currently fear for my life … well, any more than I typically do.
Even though the second-generation GL is a three-row, full-size SUV, it offers something to just about everyone thanks to a wide range of iterations. There's the $62,400 BlueTEC, of course. But also the $63,900 GL450, powered by a 4.6-liter twin-turbo, direct-injection V8 engine offering up 362 hp and 406 lb.-ft. of torque. The $86,900 GL550 makes 429 hp and 516 lb.-ft. of torque, in addition to boasting a number of additional performance boosters and creature comforts. And the GL63 AMG — yep, that's right — will be powered by the same 5.5-liter, 550 hp twin-turbo V8 as other AMG models when it comes out next year.
Anyway, I'm back on that mountain, not all that concerned about the precariousness of my position thanks to a driver's seat on full massage mode and satellite radio kicking out the jams thanks to a fantastic stereo. The leathery cabin (fully loaded, the GL350 creeps toward $100K) is so quiet I can barely hear the diesel engine purring under the hood. Just another Sunday drive down a rain-slicked mountain. Now, which XM station is Deep Tracks?