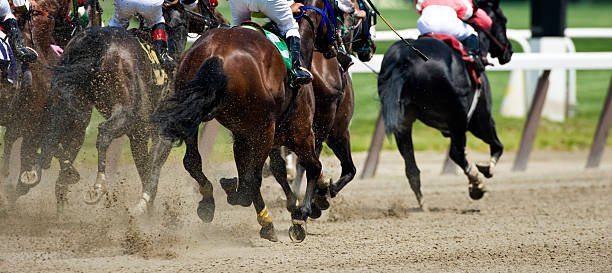 For over a century, horse racing has attracted interest all around the globe, with punting closely tied to it throughout this time. Despite this history of betting on the sport, however, it's not easy to actually win money on it, and doing so requires a huge amount of understanding, research, and often, luck. But while the majority of punters will end up in the red, by following these simple rules you can give yourself a better chance at either minimising the damage, or hopefully, bucking the trend entirely and earning a profit.
Listen to Those Who Know More Than You
It's a common error for punters to think that they know best, but unless you're truly a horse racing expert, you probably don't. There are plenty of resources out there, with experts providing tips, but be careful – not everyone who claims to be an expert is one. If you can find someone who is able to demonstrate that they consistently turn a profit, however, they're worth following. Sometimes these people will charge for their tips, other times they won't and you'll be able to access free horse racing tips, but if you're not looking to pay for tips then a good idea can be to accumulate the opinions of various people in the industry to try to find a common theme. Don't necessarily let one person dictate your move entirely, but those in the know are certainly worth listening to.
Take into Account the Conditions
It's at times underestimated by those with a little less experience in betting on horse racing just how significant the impact of weather can be on the race. As logic would suggest, when it rains, the track gets softer; when it's been dry in the lead-up to a racing meet and is dry on the day, the track is firmer. This is important because different horses have different racing styles and can perform very differently depending on the track. Some runners excel in dry conditions but struggle when the track gets soft; others do the opposite, and seem to grow an extra leg when there's a bit of give in the ground. Often, the runners which prefer soft conditions will be those that tend to run towards the front of the pack, as it becomes more difficult for those at the back to turn on the afterburners and run them down late. In contrast, dry conditions favour those backmarkers that like to wind up and flash home. Betting sites will tell you the record of each horse in various conditions, so make sure you pay close attention to these numbers.
Consider Previous Races on the Same Day
This is a similar theme to the previous point, as it relates to how the track is performing and its impact on runners. With this point, however, it's not a simple matter of knowing whether the track is soft and firm. At race meetings, the track tends to run in a certain way, and trends can develop over the course of the day. For example, at some tracks, and particularly if it's a bit wet, the inside section of the course near the rail can become increasingly soft and difficult to run in. If this is a trend that you notice consistently occurring, then it can be a good idea to take a look at the runners who might settle on the outside of the pack, as there's a good chance that they'll be running in superior ground to many of the other runners.
Take into Account How a Runner Has Been Performing Recently
In horse racing, form isn't everything, but it is pretty damn important. Like all athletes, horses go through periods of good and bad form. Often, a horse will have a preparation (which refers to races they run in quick succession before taking a period of time off) in which they perform significantly better than they have previously, or sometimes worse. Often, horses will also have a tendency to run well at a certain time in a prep – some are great straight off the bat, though more commonly they'll gear up and be at their best a couple of races in. Also take a look at how they have run at the track in question in the past, as well as at the distance in question, as this can give good insight as to whether this particular race will be well suited to them.
Know How Much You're Willing to Lose
In betting in general, but in particular in horse racing, you'll lose more often than you win. Think about it; if you're betting on one horse in a group often of ten plus to win, it's hard to win all that often. That makes it pivotal, as it always is in betting, to know how much of your hard-earned cash you're willing to part with. Even if you feel particularly confident about a bet, a good rule to follow is not to place the bet if you're not willing to lose the bet. That way, if you do fall short, you can feel comfortable with the bet that you've placed. And if you do begin to lose, a key thing to remember is not to chase your losses, as this is a trap that many a punter has fallen into, and typically not with a good outcome. Know what you're willing to part with and stick with it, and the worst case scenario is that you'll have paid for a little bit of entertainment.
Horse racing is a hugely popular sport around the globe, with betting a major reason for its popularity. As with all punting, however, it's not easy to win consistently and turn an overall profit. There are a few rules that you can follow though, which while by no means making you foolproof, are key to consider before you place your bets. The above are some of the most important of these, so make sure you take them into consideration prior to punting on horse racing.