Arcade games are fun to play with either by yourself or with friends. If you're in Delhi, then you're in luck because there are many arcade centres in the Indian capital. Below are some of the best places where you can play arcade games in Delhi.
SMAAASH – Noida Bar Exchange
This is considered by many as the best entertainment and gaming centre in all of Delhi. They have a lot of fun games for you and your friends to play such as VR roller coasters, Virtual Cricket, Twilight Bowling, and many more. And if you get tired and hungry from playing, all you need to do is order food and drinks from the bar. The place serves delicious food and refreshing drinks. And the best thing about them is that they are all super affordable. The place is also known for providing excellent service. If you want to have fun in Delhi then this surely is the place to go.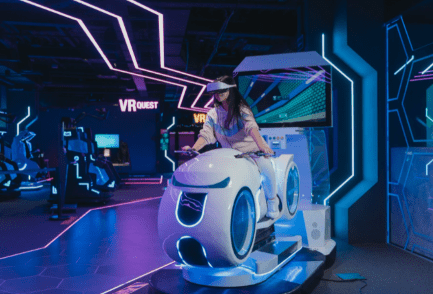 On My Game
This is a relatively new place. But it's quickly becoming a favorite for those looking to play arcade games in Delhi. This is the place credited for bringing laser tag to Delhi. Their laser tag equipment is state-of-the-art. This is the first place that you need to check out, if you want to play laser tag with your friends. But they do have more to offer. Another fun game that you and your friends can check out is Bubble Football. In the game, participants are required to wear a zorb-like bubble that covers their whole upper body. The objective of the game is to try to opple members of the opposing team. It's a fun and exciting game that you'll surely want to play again and again.
Timezone – Pacific Mall
SMAAASH may be the current kind of fun and entertainment in Delhi. But Timezone is not far behind. Time Zone is known for fun arcade video games. But they actually offer more. This is a place where both kids and adults can have fun. The best thing about Timezone is that they always seem to be the first one to get the latest arcade games. Of course, if you want to experience a bit of nostalgia, then you'll be happy to know that they still have the clasic games. Apart from arcade games, this place also offers a VR zone and a cool prize shop with fun and exciting prizes.
Mystery Rooms Gurgaon
Technically, this is not an arcade. But it's a good alternative for those who are looking to do more than just play arcade games in Delhi. Escape rooms are always fun to go to especially if you and your friends are up for a challenge. It can also be a good bonding moment for you and your friends. You'll surely grow closer to each other as you try to solve puzzles and decode clues. It's also ideal for family and for those looking for a team building activity. There are many rooms for you to choose from.