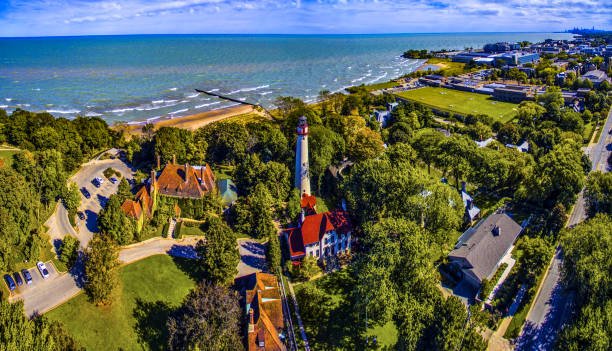 Illinois is one of the top travel destinations in the Midwest. It has everything to offer, from the vibrancy of the big city to small-town attractions. If you're planning a trip, don't overlook the Land of Lincoln. Whether you're looking for sightseeing, culture or outdoor exploration activities, Illinois has it all. Keep reading to find out all the reasons why Illinois should be on your travel itinerary.
Chicago
No trip to Illinois would be complete without a visit to Chicago. Chicago is the largest city in the state and is one of America's most notable cities. Known as "The Windy City", Chicago is also famous for being Gotham City in Batman movies.
Chicago has many iconic landmarks, including the Willis Tower (formerly known as the Sears Tower), Navy Pier, and Millennium Park. But Chicago isn't just about landmarks. It also ranks as one of the top shopping and culinary destinations in the country.
Chicago deep-dish pizza and hot dogs are known all over the world. It is also known for its fine dining options, with many Michelin-starred restaurants calling the city home. Chicago's offerings alone could warrant its own trip, but there's so much more to Illinois than just the city.
Route 66
Known as the "Main Street of America", Route 66 is a historic highway that runs through eight different states, including Illinois. The iconic highway is often depicted in film and popular culture. It is romanticized as the symbol of freedom, adventure and the perfect road trip. It was established in 1926 and played an essential role in the development of America's transportation infrastructure. Illinois is home to some of the most iconic parts of Route 66, including old gas stations and diners.
Festivals
Illinois is also home to some of the biggest festivals in the country. You can find festivals for all interests and hobbies throughout the state. One of the biggest festivals in the state is Lollapalooza, a massive music festival that attracts fans from all over the country. The event is held every year in Chicago, with all kinds of artists and genres represented. Another popular festival, also held in Chicago, is the Chicago Blues Festival. Showcasing some of the best blues musicians and African American culture in the country, this festival is a must for music lovers.
The state is also known for its state fair. The Midwest, in general, is famous for its state fairs, and Illinois is no exception. The Illinois State Fair is a huge event that attracts visitors from all over the state. Whether you're interested in music, food, culture and history, Illinois has something to offer.
Outdoor Recreation
For the more adventurous travelers, Illinois also has plenty of outdoor recreation opportunities. Explore the vast beauty of Shawnee National Forest, with over 280,000 acres of land to discover. Experience exciting outdoor activities such as hiking, camping, fishing and hunting in this wonderful destination. There is also the Garden of the Gods, located within Shawnee National Forest, which offers stunning views and hikes that will take your breath away. These parks are ideal for camping and fishing. There are rock climbing opportunities for the more experienced adventurers as well.
Conclusion
Illinois is a state that caters to every taste and inclination, making it an excellent representation of the Midwest. A visit to Illinois is guaranteed to provide everyone with the ideal blend of attractions- from shopping malls, dining experiences and annual festivity celebrations coupled with various outdoor recreation activities such as berry picking, hiking or bird watching- there's something for everyone. Apart from its mesmerizing countryside landscapes ready for exploration, unique cities like Springfield, Peoria, and Chicago offer unmatchable experiences worth exploring while in this beautiful state!
Illinois has a standout city in Chicago, renowned for its impressive architecture, magnificent cultural heritage and interesting past. Famous personalities such as Michael Jordan and Oprah Winfrey have made the city noteworthy. It is also the hometown of the legendary Bulls team only adds to its allure. The state is best experienced through various world-famous festivals celebrated annually, like Lollapalooza, Illinois State Fair, and Chicago Blues Festival, which accentuate the lively essence of Illinoisan culture.
Experience a perfect blend of nature's beauty and city life excitement in Illinois, making it an ideal destination for those who seek to unwind or have fun with loved ones. Discover the breathtaking landscape of Starved Rock State Park or immerse yourself in the buzzling streets of downtown Chicago with vibrant nightlife and cultural experiences. There is no time like now to plan your visit to this awe-inspiring state!