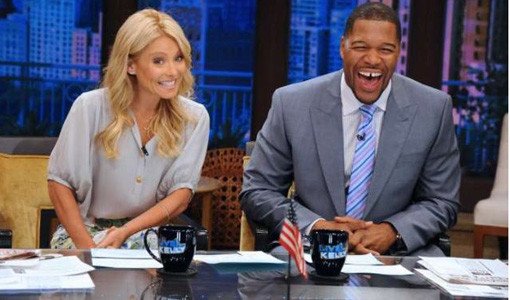 It's been almost a year since Regis Philbin left his post on Live! With Regis and Kelly after a quarter century on the show. (Don't be ashamed, the thought still makes us all teary-eyed too.) He proved to be a tough act to follow, as Kelly Ripa proceeded to try out no fewer than 59 different guest hosts. But the permanent replacement has finally been named, and it's Seth Meyers Anderson Cooper Josh Groban former New York Giants defensive end Michael Strahan. Wait, what? The six-time All-Pro, former Super Bowl champion, and current Fox football analyst is the exact opposite of Regis.
Or … is … he … ?
An exhaustive ModernMan.com investigation has revealed that Michael Strahan and Regis Philbin actually share a whole host of similarities.

1. GENEROSITY
Regis: Gave away literally millions of dollars to brainy contestants as the original host of Who Wants to Be A Millionaire.
Strahan: Gave away literally millions of dollars in divorce settlements to his ex-wives.
2. INSANE CO-HOSTS
Regis: Kathy Lee Gifford
Strahan: Jimmy Johnson
3. COLLEGE EXPERIENCES
Strahan: Attended Texas Southern University in Houston's Third Ward ghetto.
Regis: Once saw a black guy while attending Notre Dame in the early 1950s. (Correction: That actually happened during a weekend trip to Chicago.)

4. TIES TO EXTREMISM
Strahan: Many people know he loved to terrorize Patriots.
Regis: Few people know he shortened his name from Regis Phil bin Laden.
5. SACKS
Strahan: Owns the NFL single-season sack record for driving opposing quarterbacks into the ground 22.5 times in 2002.
Regis: Owns an aging sack that hangs no more than 22.5 inches above the ground.
6. CARDIOLOGY
Strahan: Struck fear in the hearts of opposing passers.
Regis: Had triple bypass heart surgery.
7. OTHER TALENTS
Regis: Has recorded music tracks on several different albums.
Strahan: Has tracked his fiancee by hiding a GPS device in her car. Twice.

8. FAILED TV SHOWS
Regis: Westinghouse Tonight Show From Hollywood, The Neighbors
Strahan: Brothers, Fox NFL Sunday