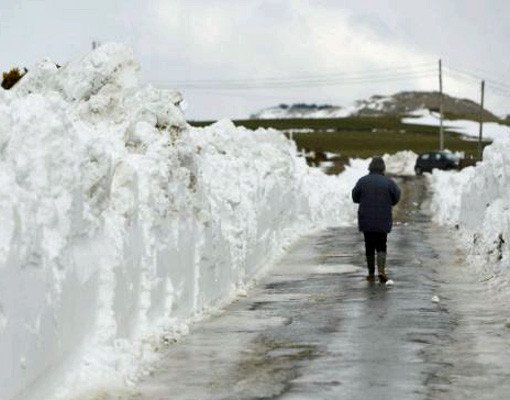 The snow has fallen. The ice has set in. And the snow has fallen again. Now you're like thisclose to cabin fever. So when you're finally able to leave the house during rough winter weather, you're better off strapping a durable, well-constructed winter boot instead of running shoes, which become flimsy slippers once the snow soaks them. Your toes will thank you (since they won't fall off due to frostbite), and you'll look stylish. That's what we like to call a win-win.
Also: Essential Wintertime Groomng Products For Your Face

#1. Oliberte Adibo Pullup ($75 @ Oliberte.com)
The Adibo boots are made by hand out of ethically sourced leather. That might not let you off the hook with a PETA-supporting girlfriend, but it should still earn points. The Adibo's black seen on the upper is contrasted by the lighter red of the raw edges, which transforms a natural aspect of the construction into its own design feature. These short boots come up just to the ankle and have rubber soles. As for comfort, we purchased insoles for some added padding. A small price to pay for a sporty and durable boot.
Also: Great Men's Gloves For Winter
#2. Sorel Caribou Wool Boot ($160 @ Amazon.com)
Sorel is notorious for manufacturing some of the best boots for men. Why? Because the full-grain leather and waterproof upper functions help to keep the elements out while the removable, felted wool InnerBoot keeps warmth in. Read: Your tootsies will be nice and cozy wozy. All that warmth would be nothing without traction to keep you from falling on your ass every time you take a step. Enter Sorel's AeroTrac technology. Now when you're at the cabin, you can traipse out in the snow in your swim trunks confident that your feet will stay warm and grounded.
Also: Cool Winter Hats For Guys
#3. OluKai Honolulu Boot ($180 @ OluKai.com)
The Honolulu boot is a breezy interpretation of the classic professional men's shoe. Its sleek design is authoritative, but the detailing suggests after-hours fun. The leather upper wicks away moisture. These boots also feature non-marking rubber soles and antiqued metal detailing for a touch of subtle worldliness. Above all, they're comfy. A boot that's both stylish and comfortable and kick inclement weather's ass and feel good afterward gets two thumbs up.
Next: Timberland, Wing Iron, and Gucci