Even during relatively mild winters, most of us need a hat, boots, a coat, a scarf, and gloves. But all gloves are not created equal, and they all certainly don't look equal when you're wearing them. Some are specifically tailored for winter activities like skiing or snowboarding, while others were made to give your hands and fingers the ability to send emails and texts, or even (allegedly) commit horrible, disgusting, inhumane acts of violence. We don't anticipate you (allegedly) pulling an O.J. Simpson or anything, but if you did — or if you just wanted to work on your car, yard, or look cool while having warm hands — at least one of these six pairs of gloves will do the trick.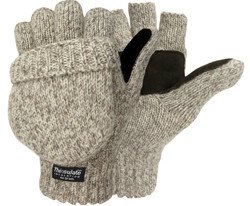 Every guy wants to keep his options open — commitment? Where? — and the Sentry Mittens allows for just that, flip-flopping between mitten and glove easily and stylishly. A blend of wool and acrylic create plenty of warmth, while folding away the mitten caps makes it easy to operate a car or open a beer. But definitely not both.
#2. Best Men's Winter Gloves For
Running and Biking: Craft Men's Thermal Multi Grip Glove ($20 @ Amazon.com)
Are you a runner? Do you like to pretend that you are to impress women? Meet the Craft Men's insulated glove. They're simple, sure, but that doesn't mean they won't take care of your paws — these are the best gloves for anyone heading out for a run on windy, wintry days. Craft's fabric is reflective and breathable, and are equip with a palm logo that provides enhanced grip. Now, if only you could motivate yourself to get out of bed when your alarm goes off. Don't think we don't know, slacker.
Ah, finger sweat … would it truly be wintertime without you? Finger sweat means you're warm, which means you're alive, which means that you must be wearing your Fox River mittens. The mitten is soft and slightly-bulky glove with a soft fleece 3M Thinsulate inner for added warmth. The palm is made of deer leather for extra grip.