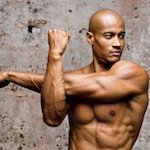 The best advice that could be offered about a workout plan for men would be to keep it simple. A very basic strategy performed consistently should help any motivated man find his way to developing a great looking physique.
ALSO: 6 Ways to Supercharge Your Workouts
Workout Tip #1: Build muscle mass with free weights. Set two days out of the week aside for lifting heavy free weights. The exercises should be compound ones such as a bench press, the military press or the squat. By performing these compound exercises, the large muscle groups of the body are targeted. This will help craft a strong and muscular appearance, and no men's workout plans would be complete without free weights.
Workout Tip #2: Perform two days worth of bodyweight exercises. Bodyweight exercises can be easily done in the home. These exercises can be performed in a slow and controlled manner to help tone and define the muscles that were built up during the compound free weight workouts. Bodyweight exercises also contribute to building up muscular endurance. Stronger muscular endurance will definitely help make the performance of daily tasks a lot easier.
Workout Tip #3: Get at least three 30 to 45 minute cardio workout sessions in per week. Building muscle is fine, but you do not want all that muscle covered by a layer of fat. Any quality workout plan for men will need to include some cardio work. If you want a ripped look, you positively must get some jogging, rope jumping or bike riding in.