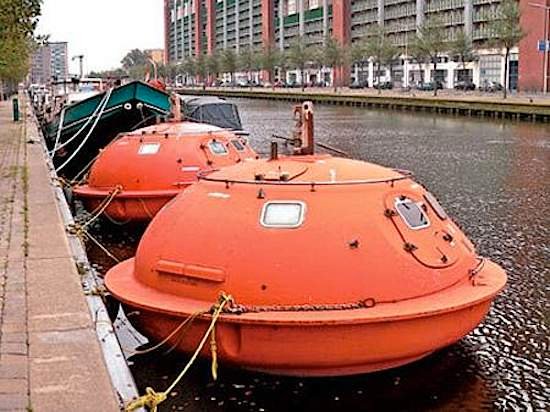 Capsule Hotel | The Hague, Netherlands
It's not a spaceship extracted from Area 51, but it is a TEMP (totally enclosed motor propelled survival craft). Once used on an oil rig platform, these two-person pods have remained mostly unchanged since their construction in 1972 (an emergency toilet — sounds ominous — and a lock are the only two additions).
Cost: $100-$250 per night (and a perfect hideout in the event of a zombie apocalypse).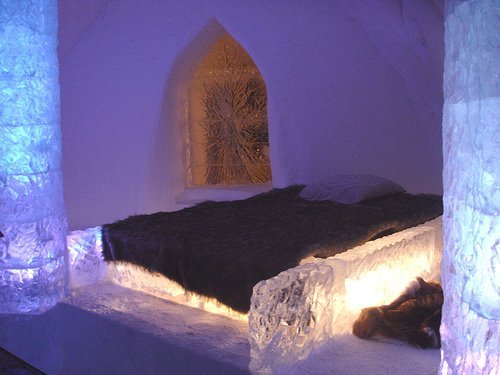 Hôtel de Glace | Sainte Catherine de la Jacques Cartier, Quebec
The hotel's five-foot thick walls maintain an internal temperature between 23-26 degrees Fahrenheit. Even the furniture and glasses are made of ice, and some room service dishes are served on ice plates. Along with 36 rooms, 14 suites, and someone available 24/7 to take frostbite questions at the front desk, there's also a nightclub, movie theater, indoor heated washrooms, and outdoor hot tubs. Rooms are available January-March.
Cost: $400-$550 per Eskimo per night.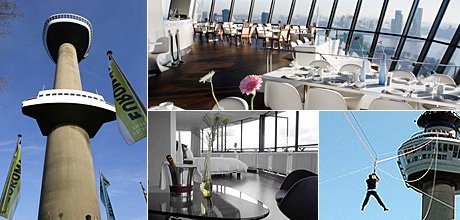 Euromast TV Tower | Rotterdam, Netherlands
Perched more than 300 feet above the city, either of the two available suites — aptly named Heaven and Stars — offers a clear view of Rotterdam (which is more aesthetically pleasing than the name leads you to believe). Each suit offers views of a scenic skyline, a comfy double bed, minibar, and room service until to 1:00 a.m.
Cost: 385 Euro per night ($540).
The Village Cave Hotel | Cappadocia, Turkey
The cave hotels have become a big tourist stop for people passing through Turkey. The rooms have a neutral or stone decor — kinda like Fred Flintstones's place — and have private bathrooms, a hair dryer, telephone, minibar, and some have a fireplace and bathtub.
Cost: 70 Euro ($98) per night for two people and includes breakfast.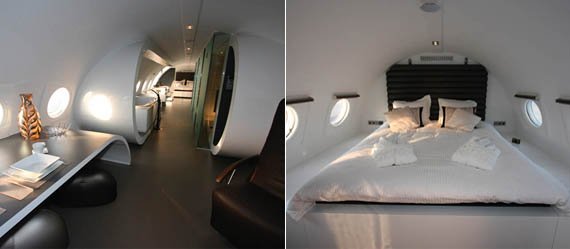 Airplane Suite| Teuge, Netherlands
This plane flew German politicians before becoming a hotel for people who want a night of two of luxury without worrying about plummeting 15,000 feet to their doom. Booking might be tough since the capacity is only two guests, but that duo gets full access to the jacuzzi, shower, infrared sauna, mini bar, three flat screen TVs, oven/microwave combo, coffee and tea maker, free wireless Internet, and air conditioning.
Cost: $495 per night with a flight attendant/hostess on-call at all hours.