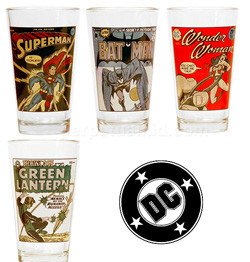 DC Comics Vintage Pint Glass Set ($26 for four)
The terrible Superman Returns and Green Lantern movies aside, we love comics. We're especially fond of the old-school versions of the superheroes, which is one reason why we love these 16-oz. pint glasses so much. Justice League members Batman, Superman, Wonder Woman, and Green Lantern will make it a little less lonely when you're drinking by yourself. But these superheroes aren't invincible; to preserve the graphics, you'll need to wash these babies by hand.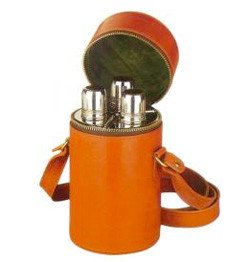 Daines and Hathaway Triple Bar Set ($280)
Whether you're taking a day trip with your buddies or heading to Grandma's house for the weekend, a little booze can make the experience more fun (or at the very least, tolerable). Each set is handmade in England and contains three stainless steel flasks and cups. The leather case looks classy and is lined with suede on the inside, plus it has a shoulder strap for easy transport. For an extra $30, you can even personalize the set.
Accessories