Gifts for new girlfriends …
#1. SUCK UK Robot Nut Cracker ($20 @ Amazon.com)
Expect this reaction: "Oh, that's soooooo cute." It's not too expensive and creative enough to look like there was effort behind it. Plus, depending on her personality, there's always room for a nut cracker joke.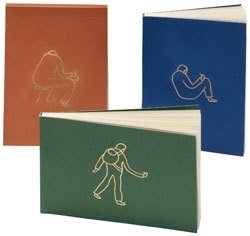 #2. Plumb Notebooks ($15 @ Amazon.com)
Created by artist Nathaniel Russell to fuel his creative process, this three-piece set of tiny notebooks containing 63 blank pages can serve countless functions — ideas, sketches, notes, dream journal, etc. The holder keeps them bunched, which means prevents them from looking sloppy on if they're being stored on a desk, counter, or dresser.
Gifts for old girlfriends …
#3. Jawbone Up Move Activity Tracker ($50 @ Amazon.com)
If her New Year's Resolution is to get in better shape — or if you're trying to drop a subtle hint — this device from Jawbone is an inexpensive way to help her achieve that goal. It tracks steps taken, exercise, calories burned, and hours slept. It's compatible with iPhone and Android devices and pairs to your smartphone via Bluetooth.
#4. Art of Appreciation Gift Baskets Coffee Connoisseur Gourmet Food Basket ($70 @ Amazon.com)
A gift basket? Really? When it involves high-end coffee and delicious snacks, your good. From espresso candies cakes and cookies to chocolaty deliciousness, she'll appreciate the variety. That said, you can't just get her this. If you're a multiple gifter with your lady — and most of us have to be — this is a great way to start things off.