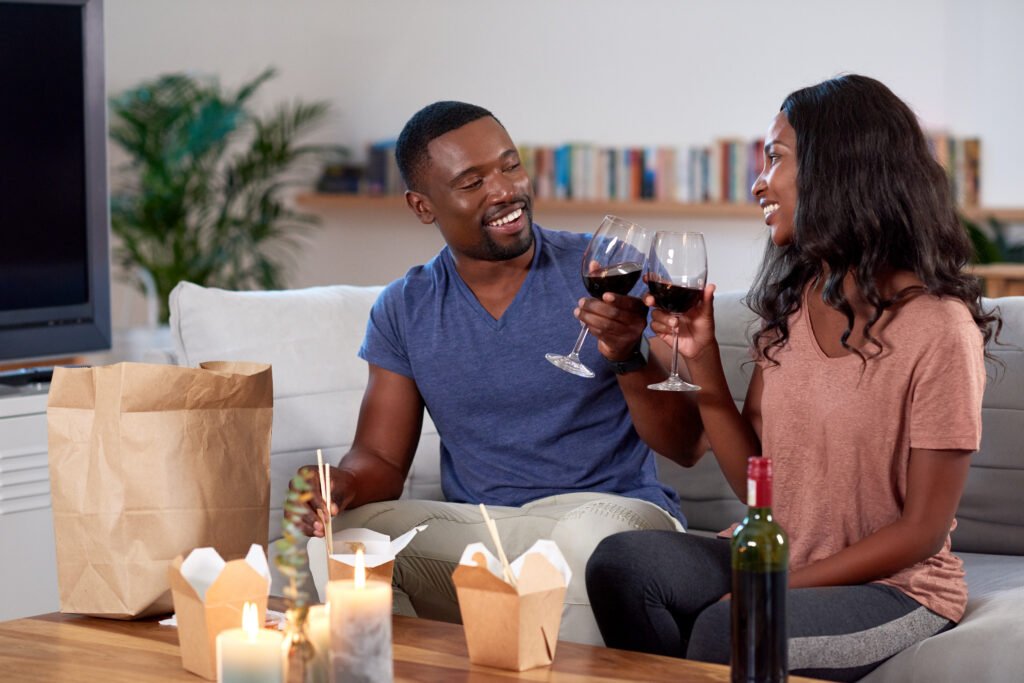 The COVID-19 has affected every single human being in the world. People are required to stay at home to prevent the spread of the virus. The lockdown mandated by governments have adversely affected people's lifestyles, even their ways of spending quality time with their respective partners.
Due to the pandemic, couples can no longer have dates in fancy restaurants, as well as watch movies in theaters. The lockdown has also prevented couples from travelling in and out of their countries. Fortunately, all is not lost because there are several tricks on how you can have a date night during lockdown. These include:
Have A Dress-Fancy Drinks Party In Your Kitchen

One of the reasons why date nights are very fun is because you and your partner will have an excuse to dress up. This is especially true if the two of you are fond of having dates in fancy restaurants that require dress codes. But, who says you can't do the same when you're at home?

For your first date night during lockdown, have some drinks in your kitchen while both of you are wearing your most formal wear. You can wear your best pants and tuxedo and have your lady wear her favorite dress. Putting an effort to wear something nice and fancy (instead of being in your loungewear) can set the mood for the night. You can even take the whole experience up a notch by enjoying some coffee hot cocktail.

Because of the lockdown, you can now easily buy and have your favorite cocktails delivered to your home. You can also do a little research online to know where to buy hot coffee cocktails, and have these drinks included in your menu for your upcoming date night.
Bring The Spa To Your Home

Everybody deserves to have a spa day every once in a while. Adulting can be very challenging and cause a lot of stress, and, for some, body pains. However, because most spas and salons are closed because of COVID-19, pampering yourself can now become a challenge. Fortunately, all is not lost because you can bring the spa to your home and pamper yourself and your partner in a fun and unique date night.

Scented candles, massage oils, and face packs are almost available almost anywhere, so make sure to buy them to make your home feel and look like a spa. You can even turn on some soothing music to complete the ambiance.

If you never had this kind of date in the past, prepare for it by looking at videos online to learn how to properly apply face masks and do massages. Learning how to do these things can be taxing, but your partner will surely thank you once they feel rejuvenated after this date night!
Challenge Your Partner To A Cook-Off

One of the biggest benefits of having a date night during lockdown is that the meal you share doesn't have to be expensive or at par with those offered by your favorite restaurants. As long as you and your partner can share a meal together, your date night will surely go well.

Another date night idea you can try during lockdown is to have a cook-off using only the ingredients found in your pantry. You can even make the date more fun and challenging by setting a time limit and letting your partner choose which ingredients you should use when cooking, and vice versa.

Having a cook-off as a date might be uncommon for some, but you might be surprised on what dishes you or your partner can come up with. This date night idea is a great way to unleash both of your cooking skills while bonding with each other!
Do A Movie Marathon

Before the COVID-19 affected the entire world, most adults were busy with their lives that they no longer had the chance to be a couch potato even for just a day. If this has been your story in the past, make the most out of the lockdown by having a movie marathon with your better half.

Watching Netflix for hours is one of the most inexpensive date nights you can try during this lockdown. As long as you have an existing account, you can simply invite your partner for a movie marathon, and have a date night on your preferred schedule. Make sure to prepare snacks or have food delivered ahead of time to ensure that you and your partner will have something to munch on as you're enjoying the movies.

Be Creative And Resourceful
Being cooped inside the house every day can be boring, but there are many ways you can turn things around. Instead of thinking about how limited your activities are when you're at home, maximize this opportunity as a way to bond with your partner. As long as you're creative and resourceful, you two can still have a date night even during lockdown!