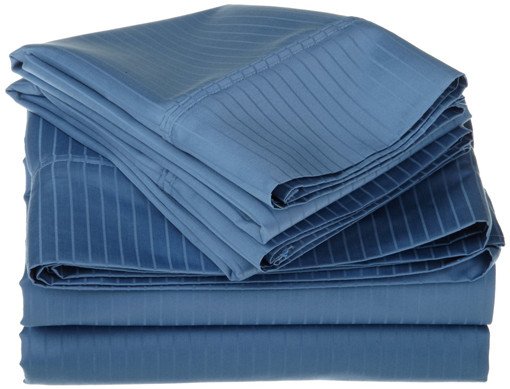 #2. UPGRADE YOUR SHEETS & COVERS
No need to bore yourself researching thread counts when you're picking new sheets. The numbers are essentially a marketing ploy after you hit 400 threads per square inch. A mid-range option: Egyptian cotton 1000 thread count sheets ($90 @ Amazon.com). Yeah, we just told you thread counts were bullshit, but we're not basing our suggestion on that. We're basing it on knowing how goddamn comfy Egyptian cotton is. The set comes with two pillowcases, one flat and one fitted sheet and is available in plenty of colors.
#3. (If you don't have a bedframe, add a Levinsohn Easy Care microfiber bedskirt ($13 @ Amazon.com) to class up the joint a bit. It's not going to do much comfort-wise, but it'll look classier.)
Also: Tips for getting a better night's sleep

#4. The 1,500 Series 3pc duvet cover set ($25 @ Amazon.com) comes in multiple colors and is a perfect topper to your new sheets.
NEXT: MATTRESS PADS AND YOUR COMFORTER