#5. ADD A MEMORY FOAM MATTRESS PAD
They're cheaper than buying a new mattress and come with varying levels of thickness — 1.5-5.5 inches — that enable you to choose the level of softness you want to crash on. The downside is you can't physically touch the mattress pad before buying. You can always visit a mattress store or a Kohl's to see the size and type you want, then use your smartphone to check Amazon to see if there's a lower price. A queen-size, four-inch memory foam mattress topper from Serta is $209 @ Amazon.com.
#6. You should also consider a mattress cover, like the vinyl-free SafeRest Classic Plus hypoallergenic waterproof mattress protector ($20 @ Amazon.com). You'll be happy you had it when you want to resell your mattress.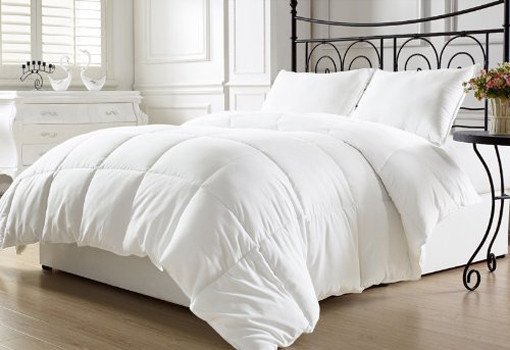 #7. PICK UP A COMFIER COMFORTER
Whether you go with down (which is made from the undercoating found beneath the feathers on ducks and geese) or an alternative like rayon or polyester, the right comforter can be the last piece to the puzzle. Obviously, down material will cost more, but the return compared to the synthetic isn't all that big. Chezmoi Collection White Goose Down Alternative Comforter ($44 @ Amazon.com) comforter is hypoallergenic and has piped edges and four corner tabs. For what you're getting — it's just as comfortable as some of the higher-end comforters we've tried — it's a steal at $44.