Owning a portable beer pong table gives you an easy ice-breaker at tailgates, concerts, the beach, and boring funerals. And when you get sick of playing beer pong (or you just plain get sick from gassing beers), the table can also be used for flip cup, cards, or strewing out passed out friends for embarrassing Instagram photos. We found five affordable and cool portable beer pong tables. Oh, and when we say affordable we mean it's within the range you'd pay for headphones and not some astronomical amount like this $500 custom beer pong table on Etsy.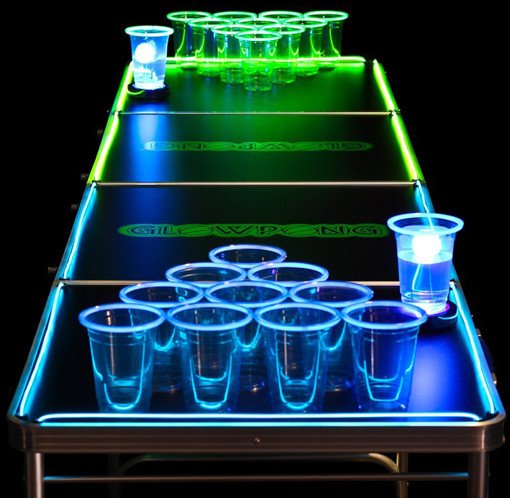 The lightweight aluminum board is regulation — 8′ x 2′ x 27 3″ — and folds up to suitcase size nice and easily. Oh yeah, the goddamn things glows. All you need to power this regulation beer pong board (4) up is two AA batteries. So if you're on the beach playing soccer and roasting dogs and marshmallows, you can sneak a few games in before the Cobra Kai gang come ruin the fun …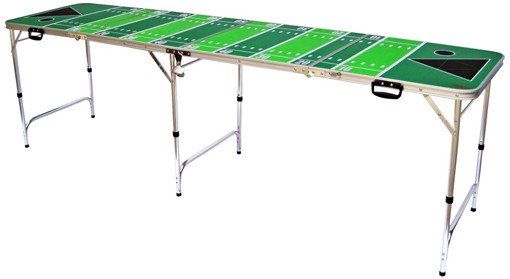 Eight feet of gridiron space unfolds in less than a minute. It comes with a scratch-resistant surface so your idiot buddy who can't hold his beer won't ruin the graphics when he inevitably drops his keys or a beer bottle onto the table. Of course, unveiling this at tailgates and you're bound to attract attention. Unfortunately, many of that attention will come from guys. Politely tell them to scram and then invite the women a few cars down to take part in a game. Then set the mode to destroy and dominate the game. Unfolded the specs for the table are 96 x 24 x 30 inches.
Can you bounce? Are chicks allowed to blow (ping pong balls out of cups)? What are the rules for rebuttals? Answers to these questions can make or break your game. Unless you're playing against an illiterate asshole, the answers will be staring him (or her) in the face. Another bonus: There are cup holders that keep cups from shimmying across the table when the surface gets wet.
The table dimensions are 8′ x 2′ and it folds up into an easy-to-lug 2′ x 2′ surface with carrying handles. All told, it weighs 24 pounds. Wow, there were a lot of numbers in those last two sentences …
Anyway, it's pretty basic looking — and there's nothing wrong with that because it has a sleek look to it. Meaning, it'll be like you're playing the classy version of beer point if such a thing exists.
There is also a six-foot table available from the seller. If you have space, go with the eight-foot table. The six-footer will seem super small. But if you can't fit it in your apartment or game room, the smaller table won't totally ruin your ability to get sloshed.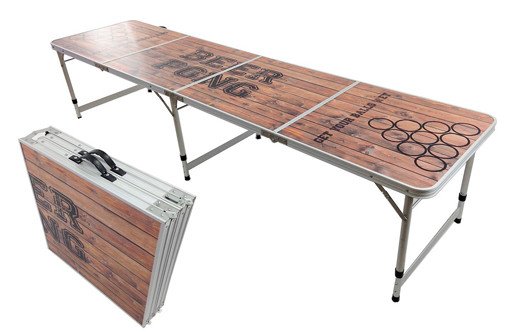 It's more stylish than a signature black tabletop but has "Beer Pong" and "Get Your Balls Wet" written in the center in bold lettering. That's a turnoff, but the lightweight aluminum frame is sturdy. Plus, the unique look overshadows the dumb lettering. Bouncing is easy on the table's surface — a huge plus for those of us who utilize this sneaky technique — and when the last cup has been chugged the table folds up into a neat square with handles. Also, the table's height is adjustable.
How to choose the right beer pong table for your needs?
Let's break down what you need to know when choosing a beer pong table.
Size Matters – The size of your table will depend on how many people you plan on playing with. If you're having a large gathering, you may want to invest in a larger table so everyone can be comfortable while playing.
On the other hand, if it's just a few of you playing, then you don't need anything too big. A standard 6ft x 2ft table is usually enough for four players.
Weight Capacity – When shopping for your table, it's important to keep in mind the weight capacity of the table as well. The heavier duty tables are typically made from aluminum or steel and can easily hold up to 200lbs without any issue.
However, if you decide to go with something lighter like plastic or wood, then make sure it has enough support beams as these materials aren't as sturdy as metal ones.
Design & Appearance – If you're hosting an event, chances are that people won't be paying much attention to the design or appearance of your beer pong table—but why not make sure that it looks great anyway?
There are plenty of options out there ranging from classic designs all the way up to ones with LED lights and custom graphics that will make your table stand out from the crowd! Just remember that some tables come with extra features like cup holders and even bottle openers which could come in handy during parties!