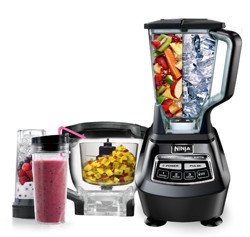 #5. Ninja Mega Kitchen System ($180 @ Amazon.com)
You get a lot for under $200 — a 72 oz. bowl and chopping blade, eight-cup food processing bowl, and two cups and lids. If you're just a protein shake guy, move on. You can find a cheaper option for that. But if you're looking for more uses like food processing, the Ninja Mega Kitchen System and its 1,500 watt motor is something to consider.


#6. Nesco American Harvest JB-50 2-in-1 Juicer/Blender ($50 @ Amazon.com)
Hopping on the juice fad? This inexpensive juicer/blender combo comes with a 50-oz. glass container and two speeds (with a pulse feature). Everything except the base is safe for the dishwasher, and the suction cups on the bottom keep it from shimming away when the 14,000 RPM juicer kicks on.
Let's take a look at what makes a good blender and how to find one that fits your budget and lifestyle.
Power and Speed Settings
The motor is the heart of any blender, so it's important to consider the power of the motor before making your purchase. Look for blenders with motors that range from 600 watts up to 2 horsepower (HP). The higher-powered motors are able to break down tougher ingredients, like ice or nuts. Many blenders also come with variable speed settings so you can adjust them depending on what type of food you're blending or pureeing. You may also want to consider a model with pre-programmed settings for popular tasks such as crushing ice or making smoothies.
Price Point and Warranty
Price is another important factor when buying a blender. High-end models can cost anywhere from $200-$400, while more basic models can be found for under $50. Keep in mind that cheaper models often don't have as many features and may not last as long as their more expensive counterparts. Don't forget to look into warranty coverage too; some manufacturers offer warranties up to five years! This will help protect you in case something does go wrong with your blender during normal use.
Size Considerations
Finally, think about size when selecting your blender — both in terms of capacity and overall size. If you plan on blending large batches of soup or frozen drinks, make sure you choose a model with sufficient capacity so that it won't overflow while running. On the other hand, if space is limited in your kitchen, opt for a smaller model that won't take up too much counter space when it isn't being used.
WAIT! BEFORE YOU GO …
• Natural Energy Drinks For Guys
• Shampoos For Guys With Thinning Hair