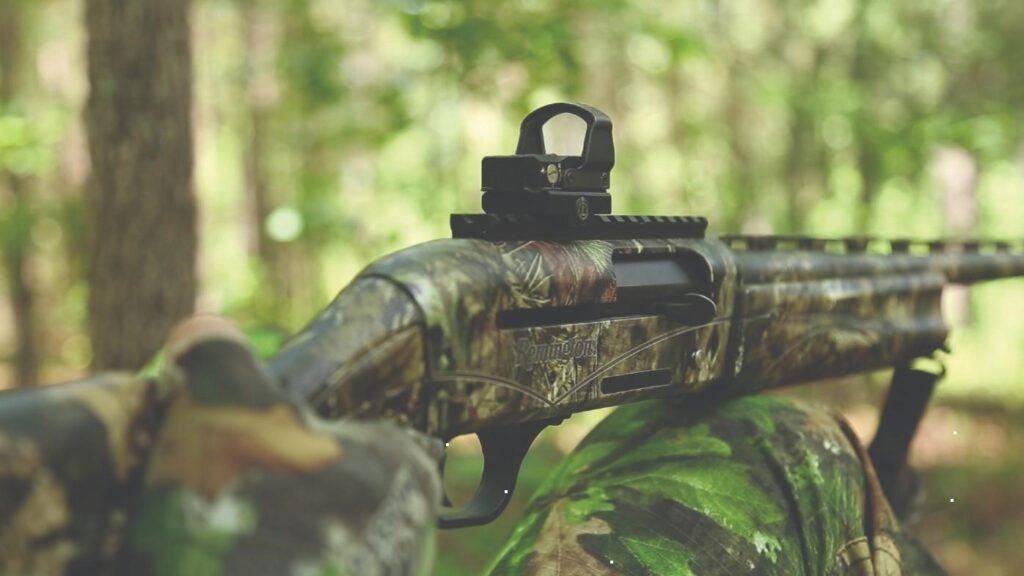 While scopes are probably the most common hunting optics, some choose to go with reflex sights. All of them (red-dot sights included) use the LED light to project a dot or a reticle on the lens. Unlike scopes and a few red-dot designs offering a rather limited magnification power, reflex sights aren't magnified, and that's their major weakness and the reason why many hunters don't even consider them. However, let's run through the strengths and answer whether or not reflex sights are a vital alternative to scopes.
Why Choose a Reflex Sight for Hunting
First of all, let us note that reflex sights can be effectively used at a range of out to 100 yards. It can extend to 200 yards with the right item. Nonetheless, 100 yards is enough for many short-range scenarios like hunting from a treestand or blind, air gun, rimfire rifle, and muzzleloader hunting, shotgun hunting, small-caliber centerfire rifle hunting, and so on.
At short ranges, reflex sights leave scopes far behind because they offer a parallax-free construction and unlimited eye relief which allows you to mount your sight whatever you like, be it the barrel or the receiver. Besides, you can use both eyes for better control over the field and acquire targets very fast.
Another benefit is that reflex sights are compact, lightweight, and easier to mount, which means more case options, less bulk, less added weight to your system, and a non-nerve-wracking transition from one firearm to another. Also, energy-effective LED technology promotes eternity-long battery life. Many reflex sights claim 50,000 hours of work, which translates to several years of service.
Well, as you see, reflex sights make nice short-range optics. Now, let's go deeper and enlighten those novice hunters who wonder about the difference between a reflex sight and a red-dot sight.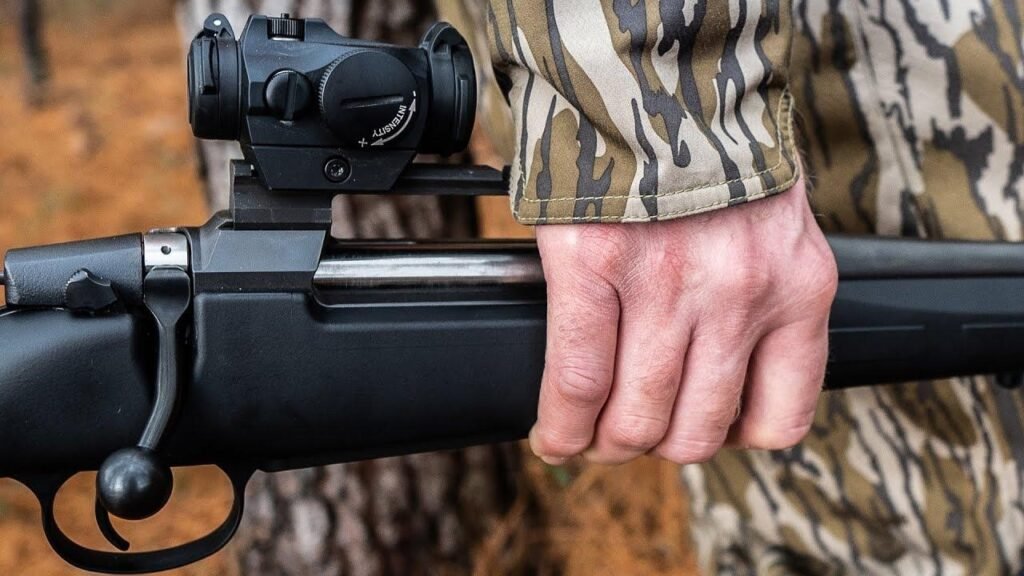 Reflex Sight vs. Red-Dot
If that's not the first article on sights you've read, you've probably seen that many people use the terms interchangeably. Well, let's put an end to the confusion. All items that use the LED technology are reflex sights.
Basically, the term red-dot sight is used to refer to reflex tube sights that look similar to scopes, while the term reflex sight refers to open sights. So the right way to title this part would be Tube Sights vs. Open Sights.
First, we should consider the overall construction. Many reviewers say that reflex sights have a wider field of view, which isn't correct because FOV isn't a thing with this type of optics. The idea is to use sights with both eyes open, so when you do, you will see the picture as you perceive it with both your eyes and the red dot materialized on the target. FOV is irrelevant here. Instead, we should talk about construction.
The thing is that tube sights have housing that blocks the picture a bit more than an open design. With the latter, we are less cognizant of something in the way of our eyesight. However, the tube design makes optics less susceptible to elements, while the lens of an open sight can be easily scratched or suffer from glare.
Now, let's look at the best options available today.
Best Reflex Sights – Top List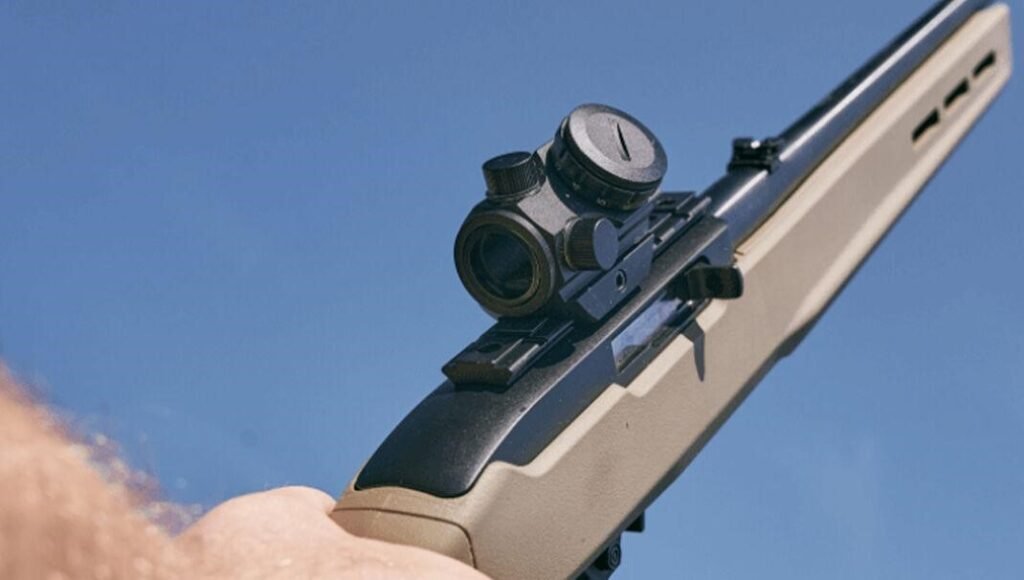 Bushnell Trophy TRS-25
This sight is the best budget red-dot sight. You'll hardly find red-dot optics manufactured by a trusted brand, such as Bushnell, that offers similar quality for less than a hundred bucks. Let's see what this little guy has to offer for such a price.
The Trophy TRS-25 is a pretty light tube design that weighs only 3.6 ounces. The housing is nitrogen-purged, which prevents the lenses from fogging caused by rapid temperature changes or humidity. The O-ring seals the optics from water, so the interior won't be damaged even when the sight is fully immersed.
The Trophy TRS-25 projects a 3-MOA red dot and has 11 brightness settings for optimal performance in all lighting conditions.
The tube sight is mounted on Picatinny rail and is compatible with rifles and shotguns. If you need a dependable and simplistic red-dot sight, the Trophy TRS-25 from Bushnell won't break the bank and will offer just the right amount of technology needed for hunting.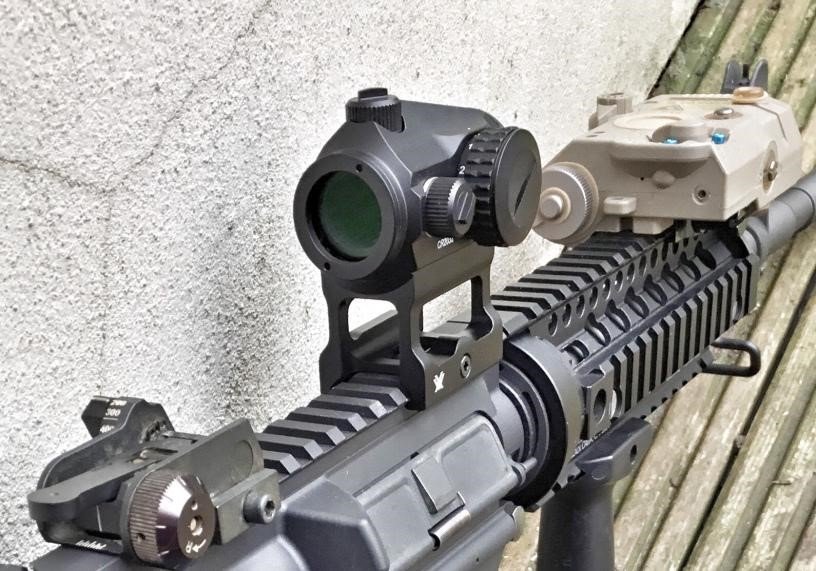 Vortex Optics Crossfire Red Dot
Manufactured by another reputable brand, the Crossfire red-dot sight is also a tube design. The Crossfire boasts a mind-blowing battery life of 50,000 hours on brightness setting 6. For example, the Trophy's claimed battery life is only 5,000 hours. The Crossfire also features night-vision compatibility of the lowest two brightness settings and lower 1/3 co-witness capability.
The housing is a waterproof construction coated with a rust-resistant, anodic oxide finish. The finish is matte, which helps avoid reflections that could give up your position.
The lenses of the Crossfire are multi-coated for superior light transmission and anti-reflective effect. A simple 2-MOA red dot has 11 brightness settings.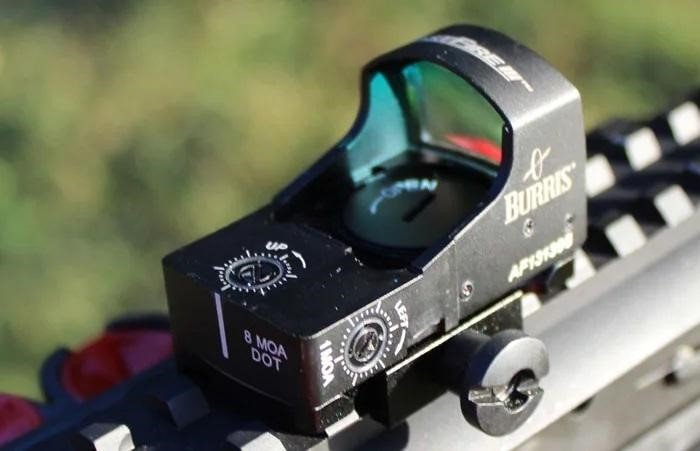 Burris FastFire III
It's an exposed reflex sight from one of the major optics producers. The FastFire 3 is available in 3-MOA and 8-MOA dot variants. A smaller 3-MOA dot variant is generally a choice of rifle hunters who need pin-point precision, while a bigger 8-MOA dot variant will suit shotgun hunters.
The FastFire 3 is shock- and waterproof. The multi-coated lenses ensure better light transmission and eliminate glare. For optimal performance in different lighting conditions, the item features three manual brightness settings and an automatic brightness mode. Burris claims the FastFire 3 battery can live up to 5 years thanks to the auto time-out function that shuts the LED off after 8 hours.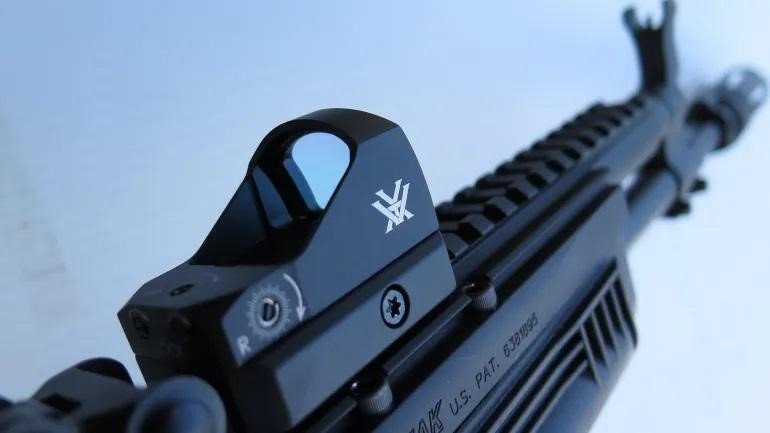 Vortex Venom
The Venom is one of the best AR-15 red dot sights. It's an open-style reflex sight that comes in 3-MOA and 6-MOA dot variants. The dots of both variants have 10 brightness settings in manual mode and an automatic brightness mode.
The Venom boasts outstanding optical performance and durability features. Fully multi-coated lenses ensure exceptional light transmission at dawn and dusk.
The single-piece chassis contributes to the overall shockproof performance, while the O-ring prevents the sight from debris and moisture. The housing is coated with a matte anodized finish for better camouflage and corrosion resistance. The lenses feature the proprietary ArmorTek coating technology that prevents them from scratches, dirt, and oily substances.
Vortex claims the battery lasts for 30,000 hours on lower brightness settings and 150 hours on the highest setting.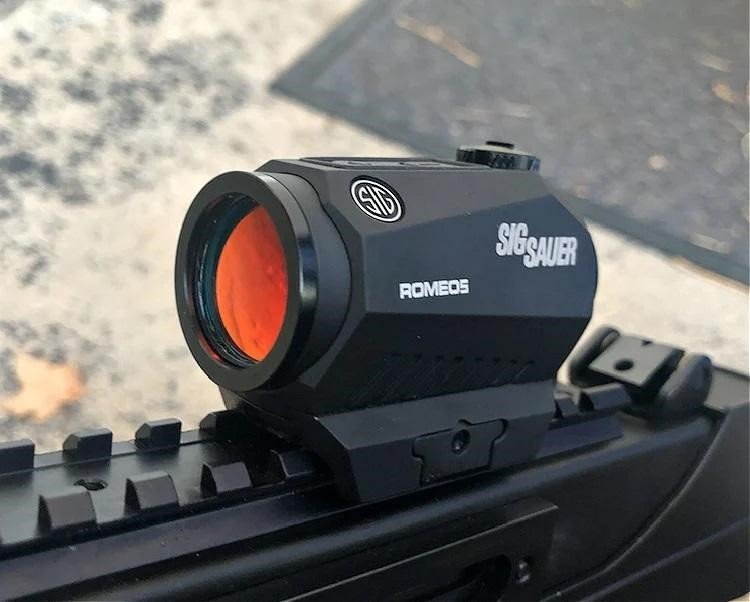 Sig Sauer Romeo 5
Romeo 5 is a tube reflex sight from another long-established firearm brand. Sig Sauer doesn't specialize in optics and doesn't design it much, but when it does, gun owners get another alternative worth considering.
The item features IPX-7 waterproofing and fog-proofing. The Romeo 5 uses the proprietary Motac technology that powers the sight on as soon as the motion is detected and shuts it off when the sight is at rest. The technology helps save battery power and extends the battery life up to 40,000 hours.
The 2-MOA dot ensures accuracy, and 10 illumination settings aid in adaptation to various lighting conditions.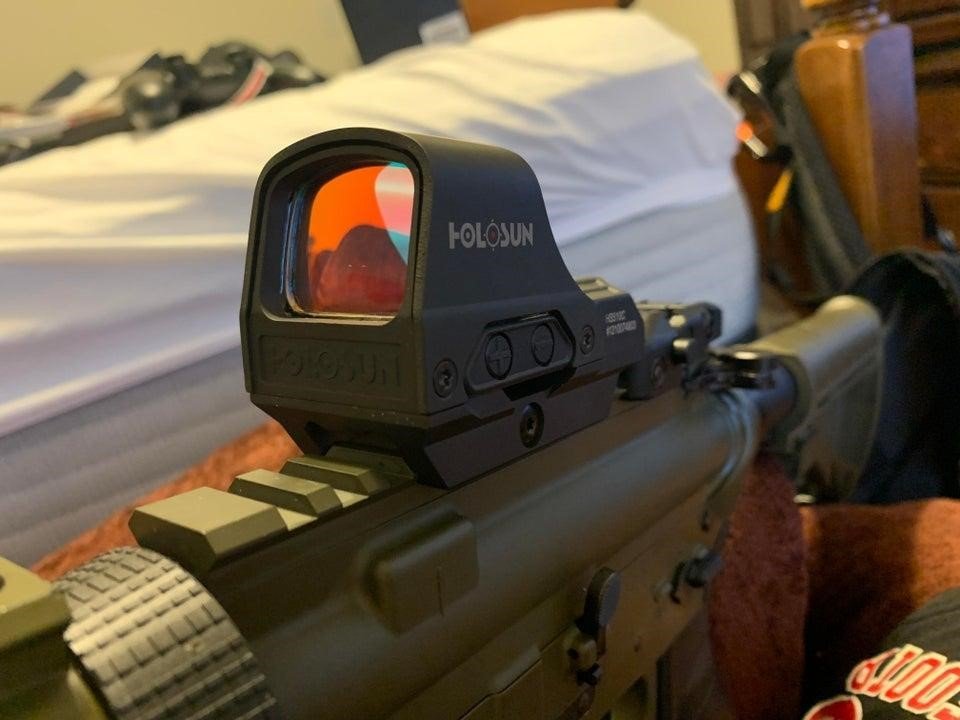 Holosun HS510c
The HS510c open reflex sight from Holosun is a feature-rich item made for serious shooters looking for exceptional versatility and performance. It's considered one of the best AR optic products and can also be mounted on other rifles and shotguns.
The lenses feature multi-layer coating applied to maximize light transmission, reduce glare, and improve wear resistance. The housing uses aluminum and titanium for better strength and lighter weight.
The Holosun HS510c has 12 brightness settings, and the two lowest are compatible with night vision. In Setting 6, the battery can work for up to 50,000 hours. And what are we left to do when the battery is out? The Solar Failsafe – to the rescue. The technology uses small solar panels that maintain the red dot sight operation when the battery fails.
The Shake Awake technology is responsible for shutting the LED off when it's motionless and switching it on when the sight is shaken. The feature can be easily deactivated when not needed.
The HS510c also employs the Multiple Reticle System that allows for fast switching between display modes, from 2-MOA dot inside a 65-MOA ring, to dot only, to circle only.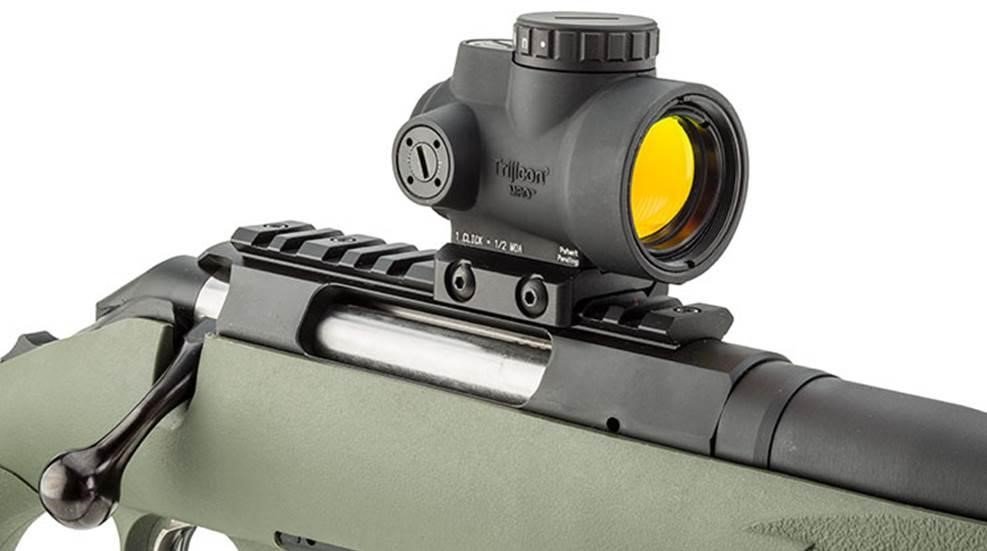 Trijicon MRO
It's a high-end tube reflex sight that can be mounted on rifles and shotguns. Thanks to the aluminum 7075 housing purged with nitrogen for fog-proofing and sealed for waterproofing, it'll survive the toughest conditions and impacts. The capless housing design prevents the loss of zero or inadvertent adjustment. The MRO has multi-coated lenses that improve the light gathering and give a crisp dot and a clear image.
The Trijicon MRO reflex sight has 8 brightness settings (two of them are night-vision compatible) for the 2-MOA red dot. The battery is claimed to live for 5 years on day setting 3. Left-handed shooters will appreciate the ambidextrous brightness controls.
We hope our list of the best red dot sights will help you choose the item for your upcoming adventures. Good hunting!