Suunto Core ($300)
Many outdoor-oriented watches make you look like a zip-lining tour guide, but the Core actually mixes some style with its ruggedness. It has a built in barometer with a storm alarm, as well as an altimeter, a compass, and depth meter. But it conveys all of that data to you using a slick-looking white-on-black display. It can even tell you when sunset happens each day in more than 400 countries, so Dad will always know when it's socially acceptable to switch to hard liquor.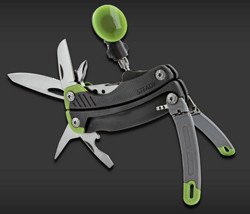 Gerber Steady Tool ($45)
Some multi-tools come with worthless add-ons. Case in point: When's the last time you utilized your multi-tool's miniature corkscrew? The Steady Tool has the essentials — two knives, three screwdrivers, a bottle opener, pliers, and wire cutters — but added two legs that make it a handy tripod for your digital camera. Perfect for when Mom isn't around to snap the erotic pics Dad likes to take of himself!

Edge Brazeau Protective Sunglasses ($15 and up)
These ANSI-approved protective sunglasses come with frames made of a durable nylon compound to keep them from snapping, and lenses that are scratch and fog resistant. So not only will they prevent Dad from taking his eye out while playing with power tools, they can also be worn around like regular sunglasses. And they're probably more fashionable than the sunglasses Dad would have picked out for himself anyway.