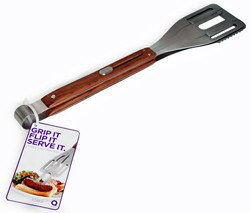 Stake Grill Tool ($30)
A quality slab of meat and a fire are really all you need to make great barbecue, but the right tools makes things a lot easier. The Stake looks like a normal 18.5-inch grilling spatula, but it's actually a three-in-one grilling tool: The front splits to become a set of tongs, and a set of slide-out tines morph it into a full-on fork for stabbing potatoes or vegetables. Pair it with a brush and you're pretty much ready to grill up whatever animal you killed on your last father-son hunting trip.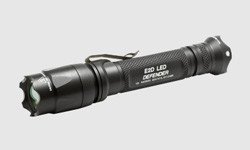 Surefire E2D LED Defender Flashlight ($155)
For the most part, the E2D looks and acts like any other durable high-end tactical flashlight. When it's on, the dual-output beam can produce 10 times the light of a D-cell-powered flashlight. But it also has a hidden feature: Its sharpened strike bezel spells trouble for would-be attackers. It's more compact and more lightweight (3.7-ounces with batteries) than a baseball bat, and is much more useful for finding keys in the dark.