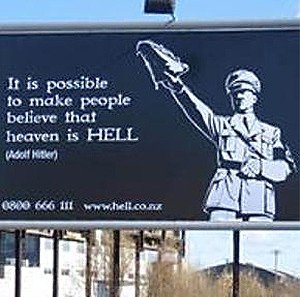 Hell Pizza's Hitler Billboard
Back in 2007, New Zealand pizza chain Hell Pizza put an image of Adolf Hitler on a billboard, seig-heiling while holding up a slice in his outstretched hand. Hilarious!
The text accompanying the photo: "It is possible to make people believe that heaven is HELL." The pizza joint hoped the stunt would stir up media attention and, subsequently, a slew of new customers. Instead, it resulted in a slew of complaints from the Jewish community. The people at Hell eventually caved to the pressure and took Hitler's billboard down and replaced it with an image of Pope Benedict saying, "HELL is real and eternal." Okay, now that does make us crave pizza.