LG Sound Bar ($249)
Multi-speaker surround-sound systems can be so obtrusive that they may as well be furniture. LG's slim, wireless sound bar, on the other hand, is a powerful alternative that saves space while offering 280W of quality sound at a fraction of the price of larger systems. (Though, admittedly, while we found it mimics surround sound, it doesn't exactly replicate it.) Bluetooth streaming also allows you to play music through your smartphone or computer.



BBB Pick Chair ($2,145)
Just remove the panel from the wall, bend it into shape, and pop a squat. That's all it takes to turn this piece of wall art into a cantilever chair. The polished aluminum seats with open-pore dyed wood panels are made in Italy and come in four different variations — plain wood, a laser-engraved Saw or Tree version, and a limited-edition digital print.



Obelisk Chairs ($8,920)
When cocooned, these pricy Obelisk chairs take up as much room as a medium-sized bookcase and sort of look like a member of Delta Squad might pop out at any moment. Break one open and you've got four classy aluminum-frame polyethylene chairs with a small table that's perfect for drinks, snacks, or a game of Settlers of Catan.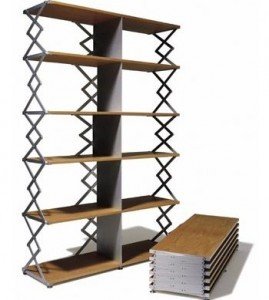 Scissor Shelf (Schereneal-Regal) ($TBD)
Available in black, natural wood, or untreated, this Swiss invention fills the void whether you need an end table, bench, or a spacious shelving unit. Plus, the 60-pounder is built to last; the concertina — the accordion-looking scissor thing — is made from anodized aluminum.




DoubleSpace Kitchenette ($TBD)
What this chair-kitchenette combo lacks in style, it makes up for in function. The two electric burners won't work while it's in chair mode, so there's no need to worry about burning your ass off. Along with two 120V outlets, it also comes with a comfy 30-inch-wide cushion.