Main Street Cutz
176 Main Street W
Greenwood, IN 46142
Phone (317) 300-1325
Website: facebook.com/mainstreetcutz
Black-and-white tile floors, red walls for luck and barber-pole stations proclaim this a man's domain, but Main Street Cutz takes pride in a sign promising, "This business serves everyone." It's as responsive to community needs and partnership as it is to customers' wants and requests. Whether you're looking for traditional or the latest, edgiest hair tattoo imaginable, this is the place for it. Haircuts run $13, and the barber trims ears, nose and brows; with a standard hot-towel shave, it'll run you $20. Packages come complete with shaves, trims, scalp treatments, facials and refreshments, too! Just look for the striped awning and red logo that conjure up good times and Coca-Cola with a barber pole and Cutz – and yes, there's a Coca-Cola bench outside.
"I want to make sure when you're at the grocery store, someone standing in line behind you asks where did you get that done?'" – Vinny Berberena, Co-Owner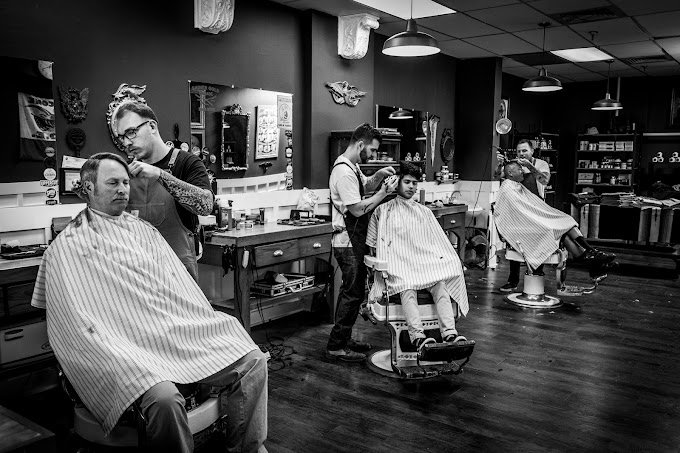 Brick & Mortar Barber Shop
906 Carrollton Ave STE. 335, Indianapolis, IN 46202,
Phone – 317-929-1179
Website – https://www.459online.com/
Brick & Mortar Barber Shop, located in Indianapolis, is unarguably one of the best barbers in the city. Their passionate and experienced barbers provide quality haircuts and styles, ranging from contemporary to classic. As soon as you step inside, Brick & Mortar welcomes you with warm hospitality. Not only are their cuts top-tier but their customer service is second-to-none; each client is treated like royalty here. Brick & Mortar Barber Shop is definitely a great choice if you're looking for a clean haircut in Indianapolis.