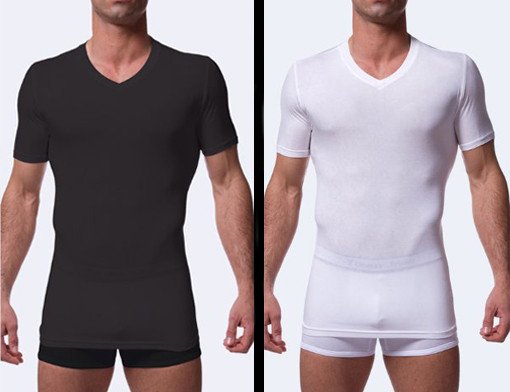 The quality and style of men's undershirts has come a long way since your dad bought them by the handful for a few bucks from the local blacksmith. Advanced in fabric and moisture protection and avoidance have made the best undershirts for men less boring and still relatively inexpensive. Meaning, there's no need to dump your entire paycheck on one, but you'll pay a little more than the pennies either. Along with offering a layer of cover under a button-down shirt for work — especially for guys who sweat excessively or are carrying some extra weight — some men's undershirts can be versatile enough to wear on their own with jeans, shorts, or sweatpants when you're nursing a hangover. If you do that and you do happen to be one of those guys with some extra baggage (aka a spare tire), opt for the best V-neck undershirt you can find. Opposed to a crew neck, the V has a slight slimming effect on the eyes that helps you look thinner without losing any weight.
ModerMan's List of the Best Men's Undershirts
Tommy John brand undershirts do a handful of amazing things — they won't ride up, bunch up, or come untucked. Which means at no point while wearing this shirt will it ever appear as if your back or gut has sporadically grown unsightly fat rolls. (This feature also makes their underwear a great buy, too.) They're one of the best fitted undershirts for men, but are also not restrictive — they're made up of 90 percent nylon and 10 percent Spandex. Unlike other fitted gear, especially compression gear, these shirts are made for all body types — not just shredded cover-model types. You can pick these undershirts up in V-neck and crew neck varieties.