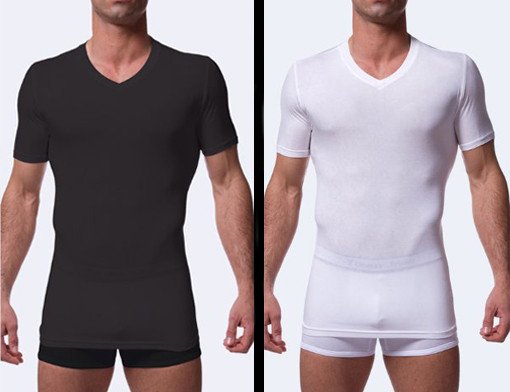 The quality and style of men's undershirts has come a long way since your dad bought them by the handful for a few bucks from the local blacksmith. Advanced in fabric and moisture protection and avoidance have made the best undershirts for men less boring and still relatively inexpensive. Meaning, there's no need to dump your entire paycheck on one, but you'll pay a little more than the pennies either. Along with offering a layer of cover under a button-down shirt for work — especially for guys who sweat excessively or are carrying some extra weight — some men's undershirts can be versatile enough to wear on their own with jeans, shorts, or sweatpants when you're nursing a hangover. If you do that and you do happen to be one of those guys with some extra baggage (aka a spare tire), opt for the best V-neck undershirt you can find. Opposed to a crew neck, the V has a slight slimming effect on the eyes that helps you look thinner without losing any weight.
What Is an Undershirt?
An undershirt is a garment worn underneath another shirt or top in order to provide extra insulation from cold weather or sweat. They also come in handy when you want to avoid visible stains on your dress shirt or blouse. Traditionally, men wore white cotton T-shirts as their go-to undershirt, but now there are plenty of different styles and fabrics available that range from lightweight cotton to moisture-wicking fabrics like polyester or spandex blends.
Choosing The Right Fit & Style
When shopping for an undershirt, it's important to pay attention to fit and style. If it's too tight, then it won't provide enough insulation; if it's too loose, then it will look sloppy under your dress shirt or blouse. As far as style goes, you should look for something that matches your personal taste and complements your wardrobe – this could mean anything from classic white tees to bold colors and patterns. If you want something more discreet than a traditional T-shirt style undershirt, then tank tops or sleeveless shirts may be a better option for you.
ModerMan's List of the Best Men's Undershirts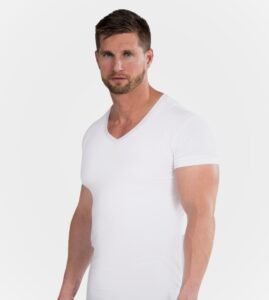 Underfit has created a slim-fitting undershirt that stays tucked, kept you cool, and provided a light body hugging fit. Say goodbye to "undershirt gut" with shirts that provide comfort, confidence and relief to thousands of customers around the country.
Tommy John brand undershirts do a handful of amazing things — they won't ride up, bunch up, or come untucked. Which means at no point while wearing this shirt will it ever appear as if your back or gut has sporadically grown unsightly fat rolls. (This feature also makes their underwear a great buy, too.) They're one of the best-fitted undershirts for men, but are also not restrictive — they're made up of 90 percent nylon and 10 percent Spandex. Unlike other fitted gear, especially compression gear, these shirts are made for all body types — not just shredded cover-model types. You can pick these undershirts up in V-neck and crew neck varieties.

Not all undershirts have to be white or black. The Calvin Klein V-neck comes in white, blue, black, and mink (brow
n).
It's comfy and doesn't suck all of the money out of your wallet. It's also stylish enough that despite being an undershirt, you don't need to keep it hidden under a button-down.

AA's shirt is 100 percent cotton and comes in black or white. If you're never tried anything from Alternative before, we suggest you do. We're huge fans of their hoodies, long-sleeve shirts, and undershirts. But if you don't want to gamble on $36, try their Men's Heather Crew for $14 and our point will be proven.

Some of us have lost the physique we owned when we were 21 16 years old, and Spanx for Men has undershirts that cover any excess bulges.
Part cotton and part spandex, these form-fitting shirts are meant to be purchased a size smaller than you normally wear. That way they can hug fat and make you look trim. The good news: it'll do so without making you uncomfortable or feel like you're wearing a corset.

An undershirt that's "regular fit" can be good for a lot of activities: chores, drinking excessively, sleeping, etc. Available in white and black, the Emporio Armani Men's 3-Pack is 100 percent cotton — read: it's super-duper soft — and a great option for any of the aforementioned activities.
So yeah, these are your basic cheap0 undershirts for men. Thing is, Fruit of the Loom undershirts won't feel cheap. Not at first, anyway. They're soft and snugly and will make your body oh-so happy.
But after a few wash-dry cycles they're gonna start to wear. It's an upgrade from a bottom-shelf tee, but don't expect them to last like some of the other higher-end brands we mentioned.

Sometimes an undershirt can serve as a twofer, as in the case of The Cotton V. Yes, it's great for underneath a button-down or sweater, but it's so damn soft and stylish in a minimalistic way that it can also work as a standalone. Each cotton shirt is pre-shrunk and made in Los Angeles and is one of the most affordable options when you're on the hunt for the best undershirts for men.