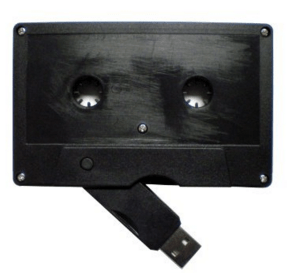 Cassette-Shaped 4 GB USB Flash Memory Stick ($20 @ Amazon.com)
The cassette-shaped 4 GB USB flash memory stick holds about 800 songs. So, it works like any other thumb drive, except it looks way cooler.
Now, we understand that kids might not understand what the hell this thing is: it's a cassette tape. Before MP3s and CDs, we used cassette tapes to play music. It was annoying and difficult to manage, but that's what we did.
We also hiked to school uphill both ways barefoot year-round.  While you can use it to host other things, like Word docs or pics, why not reserve this one for music?
And since the black is kind of lame, use Avery 5068 labels to decorate it like you did with old-school mix tapes, like this …



Also Read: Wear This: Converse Chuck Taylor All Star II
The old-school Chucks gets a new-school makeover.