If you're forced to deal with unpleasant winter activities — shoveling snow, de-icing steps, getting into your car first thing in the morning and wondering how the hell it's possible for it to feel colder inside the car than outside of it — you should definitely take advantage of fun ones. Skiing and snowboarding are awesome, but if you don't always feel like dealing with the expense and hassle, you should try sledding.
Yes, sledding. You may not have done it since you were a kid, but that doesn't mean it's any less fun. And it's especially fun when you have a kick-ass snow sled for adults to do it on. Like one of these, for instance …
Best Snow Sleds for Adults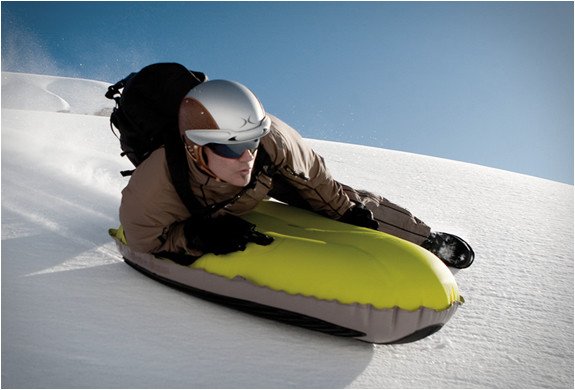 Made of strong polyurethane inflated with air, the Airboard is a snow sled like no other. It can travel down slopes with incredible speed, only much faster and smoother than a sled because of its flexible polyurethane construction, absorbing heavy shock. Many different models are available for both kids and adults, with adult models having a weight limit of over 308 pounds.
The Supreme GT's steering wheel and carving front ski makes driving easy, while the shock absorber, ribbed seat, and footrests combine for a comfortable ride. Plus, it looks like a mini snowmobile. If the paperboy in Better Off Dead was riding this 16 lb. beast instead of fastening a pair of skis to his BMX bike, he would have totally gotten his two dollars. (Skip to the three-minute mark to see what we mean.)