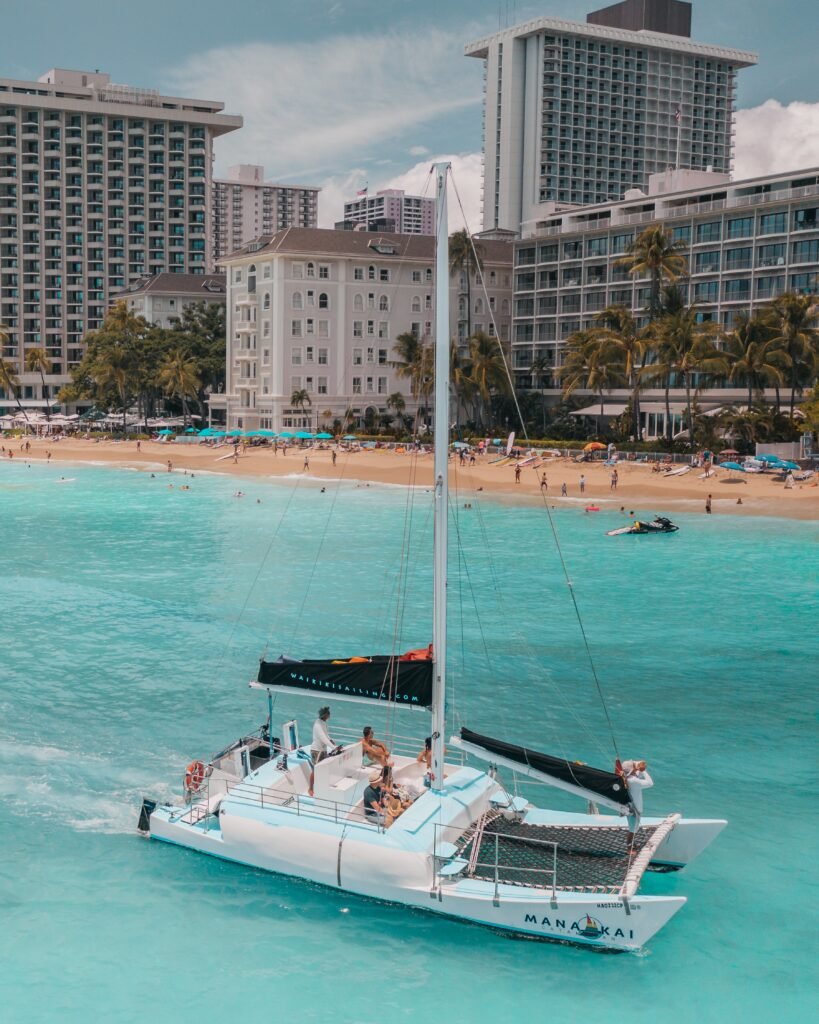 Research reveals more holidaymakers are interested in using some of the cash and time they've accrued throughout lockdown. To dream up and pay for once-in-a-lifetime luxury holiday experiences. Such as a serene trip amongst marine life sailing across the deep blue sea.
For example, searches for sailing the Caribbean increased by 400% in comparison to pre-pandemic search rates.
While yachts and cruise ships have long gained traction as the first thing that comes to mind for the ultimate holiday boating experience. Another contender is climbing up the ranks and captivating the attention of hopeful sea voyagers. As more people are pondering whether to charter a catamaran in the British Virgin Islands, Bahamas, and other scenic destinations in the world.
In the boating realm, catamarans, aka cats, are distinguished by their multi-hull (two points of the boat that contact the sea) instead of one hull, as featured on yachts and cruise ships.
The catamaran's two hulls are joined by a bridged platform that sits above the water and connects the two parts of the boat.
The origin of catamarans stems back to the 17th century. When the demand for safer, more stable fishing boats inspired Paravas, a fishing community in Tami Nadu, to create the first catamaran.
Over time catamarans were westernized in Europe. As a result, their sailing abilities and functionality have been improved since to cater to numerous occasions such as day trips and holidays on the sea.
In terms of sailing recreationally or relaxing. Here are some of the most popular types of catamarans available for hire.
Sailing Catamaran
Less space, interior, and no cabin on sailing catamarans mean they are light and speedy on the water. Enabling those who want to indulge in marine life for the day the ideal way to gain a no-frills sailing experience.
Bareboat Catamaran
Chartered bareboat catamarans offer more space and facilities to give overnight guests everything they need for an adventure at sea.
Plus, there's the option to hire a skipper to take care of the cruising side of the holiday and follow a ready-made itinerary or explore different cruising grounds at the guest's pace.
Whether opting for a Bareboat Catamaran charter around the Bahamas or Croatia. There are plenty of catamarans and destinations to choose from.
For more about the benefits of choosing a bareboat catamaran for sailing the ocean, see below.
Safe Sailing Experience
A safe and stable sea voyage will be at the top of holidaymakers' agendas for those new to sailing or planning on taking the family on a boat trip.
After all, the weather at sea can be temperamental, and traveling through uncomfortable conditions out on the ocean is possible at any time.
Large catamarans, however, with their two hulls, have excellent stability at sea, providing a smooth, predictable sailing experience for everyone on board.
Man cannot discover new oceans unless he has the courage to lose sight of the shore – Andre Gide.
Large Luxury Living Space
With the two hulls and a platform between them, catamarans are often wider than other sailing boats.
Meaning more room for larger seating and lounge areas to relax, sunbathe, eat, and chat. Plus bigger cabins, which make way for larger beds and sometimes space to accommodate private ensuites.
Equally, the galley (kitchen) is also likely to be more spacious. To accommodate worktops, mod-cons such as a dishwasher, and large fridges and freezers (often hard to come by on other boats such as yachts). Making preparing and clearing up after meals more straightforward and easy to do.
Sail In Shallow Waters
The hull of some monohull boats means they are unable to sail in shallow waters.
However, multi-hull boats fit for day trips or cruising often skim only slightly underwater, making catamarans the top pick for shallow draft sailing.
In some areas, such as the Caribbean, they only charter catamarans due to their extensive shallow waters.
Easy For Maneuvering in the Marina
An engine in each hull and advanced, intuitive control systems in modern catamarans means maneuvering and operating these boats in the marina and on the ocean is easy to do.
How To Book A Catamaran
It's pretty straightforward to source and book a catamaran. There are multiple sites online showcasing boats for hire detailing the boat's specifications with pictures included.
Browsing and clicking on catamarans of interest will help viewers survey whether the boat will meet their needs for their sailing journey around the ocean.
Prospective boat bookers should survey the boat's capacity to ensure it can fit the holiday maker's party. And check whether it has the amenities to cater to each guest.
Moreover, some catamaran rental platforms will have live chat operators on hand to help and answer any queries. Additionally, there will usually be an email or telephone number to contact the boat owner directly.
Catamarans are becoming an increasingly popular option for tourists to travel the ocean.
From the range of sailing and cruising catamarans with comfortable and luxury interiors to choose from. Coupled with the catamaran's inherent stability and speed, providing everyone on board a smooth journey in shallow or deep water. It's easy to see why catamarans are becoming the popular option for exploring and sailing around the ocean.
The world is a book, and those who do not travel, read only one page – St. Augustine.