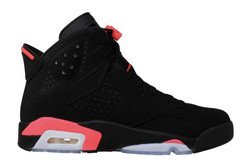 Some guys want a sneaker with a retro look but not the retro feel. As in, they don't want a shoe that looks badass but is as comfortable as an old shoebox. For guys like tat, these shoes with a throwback feel should hit the mark …
#1.
Air Jordan Retro 6 ($200 and up @ Amazon.com)
Originally released in 1991, the Air Jordan VI were — like all Air Jordans — a monster hit among teens and wannabe ballers. Well, now those teens and wannabe ballers don't have to beg their parents for fork up the loot to afford these sneakers. Although most Jordans been re-released at this point — even those awful moon boots from 1994 — the VIs (and the patent leather XVIs) have remained one of the most sought after. Features include a suede outer, rubber sole, and ability to brag that you own a pair of retro Jordans.
#2. K-Swiss Men's SI 18 Rannell 2 SL Lace-Up Fashion Sneaker ($80 @ Amazon.com)
The stylish rubber soles on these throwback K-Swiss canvas sneakers pay homage to OG kicks via the classic 5 stripes. Offering comfort, style, and performance, K-Swiss Si 18s sport leather and mesh, and are fitted with a padded tongue and collar. Other colorways available.

Also: Cool Sneakers You Can Wear (Almost) Anywhere
#3. Onitsuka Tiger Ult-Racer Fashion Sneaker ($50 adn up @ Amazon.com)
With four divers and fashionable colorways, these Ult-Racers are more than just a racing shoe. A removable insole was added for convenience while cleaning. Made from a lightweight synthetic material and speckled rubber sole. Great for joggers, and versatile enough for dates and a casual office environment. 

Also: 5 Cool Minimalist Watches For Guys

#4. Adidas NEO Men's City Racer Fashion Sneaker ($60 @ Amazon.com)
Retro-style mixed with advanced technology. These Adidas boast lightweight upper overlays for foot and ankle support. The non-marking, outsoles provide another reason to try out the all surface traction. Ethylene vinyl and acetate sock liners provide the ultimate comfort and cushion. Available in four colorways.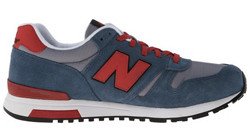 #5. New Balance Men's ML565 Classic Running Shoe ($55 and up @ Amazon.com)
In a classic blue/red or grey/green, these kicks encapsulate the essence of New Balance's classic running shoe. Particular attention went into the soles to keep runners comfy, and casual wearers from wanting to throw them if they're stuck on their feet for hours at a time. Classy and comfy — a combo you can't beat.
Also: The Best Undershirts For Men
#6. PUMA Men's Roma SL Nubuck 2 Fashion Sneaker ($35 @ Amazon.com
This low-cut sneaker comes in 20 different colorways with a contrasting Puma Formstripe technology. Made for fashion, the cushioned midsole provides comfort to all — even those with webbed feet! Plus, the lightweight synthetic material makes them feel like your feet are walking on clouds slathered in marshmallows.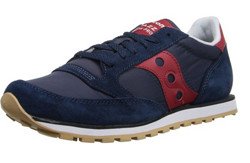 #7. Saucony Originals Men's Jazz Low Pro Retro Shoe ($47 @ Amazon.com)
These casual kicks from Saucony feature lace-up enclosures, rubber soles, padded tongues, and padded collars. Lots of padding means lots of comfort. Above all, they look cool and slick without reeking of effort.