Whether we find enormous, colorful, and overdone graphics a distraction, or we simply don't want to be a walking billboard for a brand without receiving compensation for it, some guys prefer simple and clean clothing and accessories over obtrusive logos and overdone graphics.
Also: Best Watches Under $200
We found a handful of wristwatches for men that we think will cover a lot of ground and styles. All of these minimalist watches have their own claim to something cool — from voice-command and smartphone compatibility to ultra stylish and sleek, these timepieces will all class up your wrist …


Pictured: #1. Movado Men's "Museum" Watch ($500 @ Amazon.com)
No clutter or excess numerals or seconds. This simple and smooth watch from Movado is water-resistant up to 99 feet, features a Swiss quartz movement, and an analog display. The window is synthetic sapphire and the band is made from black leather.
#2. Compatible with both Apple and Android smartphones and tablets, the Martian Watches Notifier Smartwatch ($100 @ Amazon.com) watch notifies when you receive a call, text message, email, or social media shoutout. You can also use it to track fitness stats and — that's right! — keep time.
Beyond that, the Martian looks pretty damn sharp with its 1.5-inch OLED display with 96 x 16 pixels of resolution and  streamlined yet not overpowering presence. It's tech-classy … which is a style category we may have made up.
Also: 5 Natural Shampoos For Your Filthy Hair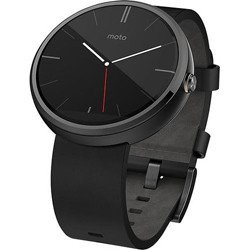 #3. Stainless steel, scratch-resistant glass, and the ability to synch with your Android phone to double as an activity tracker (heart rate, steps taken, etc.), the Motorola Moto 360 Smart Watch ($315 @ Amazon.com) also has a 1.5-inch LCD touchscreen and the ability to communicate with you via voice commands.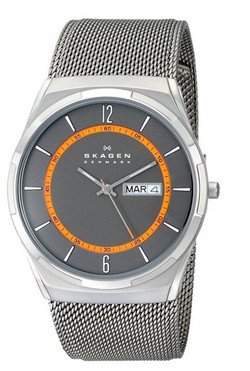 #4. The titanium grey mesh bracelet has a old-over push-button clasp and the durable mineral crystal faceplate are both tough materials that keep this Skagen Men's Melbye Quartz 3 ($140 @ Amazon.com) timepiece safe from dings and scratches. It's lightweight, water-resistant up to 165 feet (and suitable for swimming or showering) and features a quartz movement.
Also: Awesome Undershirts For Men
#5. The Nixon Men's Identity Watch ($150 @ Amazon.com) provides all you need without overcrowded the clock face: a date indicator, backlit luminous hands, and a dial that outlines the hours, minutes, and seconds. The housing material is made of stainless steel and the face material is mineral crystal.
Looking For More Style Pointers? Read This Next … 6 Stylish Dress Shoes For Under $100
You need to own at least one pair of decent dress shoes. If you want to spend $100 or less, we have you covered.