Genesis Classic vs. Atari Flashback
Releasing the Nintendo Classic last year got every aging gamer pumped for other classic releases. Two of them are from Genesis and Atari (Super Nintendo's Classic edition is coming, too.)
The retro inspired plug and play Sega Genesis Classic Game Console ($45) system has gotten okay reviews, mainly because of lackluster sound quality. (It's because it was released through a third party, not Sega.) It's still cool and perfect for the casual gamer who wants to revisit old-school gaming, but serious gamers will probably scoff at its limitations of 16-bit graphics and mono sound.
The system comes with two wireless controllers, but you can also play original Sega Genesis cartridges in it. You can also use the original controllers with this unit. Unlike the old-fashioned units, this one is sleek and portable. The game list is quite impressive too. Forget the need for cartridges sitting around the house, they load all the games in the systems' database. It also comes with all the cords, so you can plug it in and start playing.
Though the packaging says that you get 80 games, only about 40 are Sega games, and only a few of those are the classics that you probably give a shit about, like Mortal Combat I, II and III, Fatal Labyrinth, Phantasy Star I and II, Sonic & Knuckles, Sonic 3D Blast, Sonic the Hedgehog I and II, and Break a Fireline Bubble Master. Other games, such as checkers, tic-tac-toe, we're guessing, will rarely be played.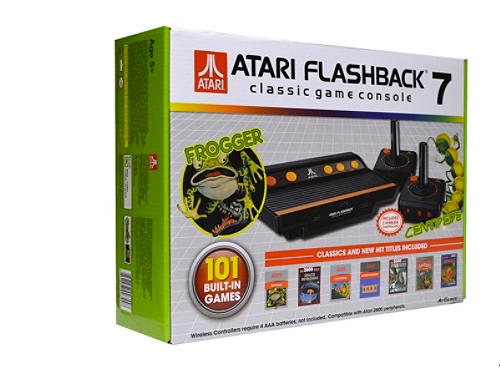 The Atari Flashback 7 Deluxe Special Edition ($49) system is a serious treat for old-video gamers. In 2001, the first retro system was introduced to the public. However, it only had a few games on it that were licensed, but it was mostly filled with traditional board games.
Fast forward a few years, and a few more releases, and the Flashback 7 gives customers what they wanted most. Due to company changes, beloved games like Frogger, Centipede, Space Invaders, Tempest, Night Driver, Yar's Revenge and Millipede can be played. In fact, there are 101 games in total.
The Flashback 7 comes with two traditional controllers, and it also has two paddle-ball controllers. It, also, has all the cords necessary for installation. Since it is a plug and play unit, there is no need for cartridges or downloading any software. It can be played on any television that has a USB connection port. The joysticks are wireless, but they will require 4 AAA batteries to be used. The system itself runs on an AC adapter, which is included.
The reception of this unit has been very positive, especially amongst the nostalgic video gamers. It received 3.7 out of 5 stars. Some viewers complain about the picture quality and overall graphics with the system. It is important to remember that these games are more than 30 years old. The graphics were not top quality then. Even with updates using today's technology, they are still not going to be like the current video games. However, it gives players a taste of the systems they loved from yesteryear.