#8. For Cleaning Your Face: Molton Brown 4-in-1 Sportwash($24 @ Amazon.com)
If we've learned anything from sci-fi movies and TV shows, it's that ions, when shot out of guns, destroy stuff. But thanks to London-based Molton Brown, ions now clean your mug too. In fact, they deep-clean and even "calm" your skin, which feels great before you shave. Regular soap dries the skin and strips it of moisture, whereas facewashes maintain pH balances while removing oil and dirt just as well.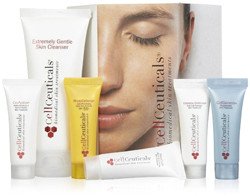 #9. For Protecting Your Face: CellCeuticals Discovery Kit($113 for a 6-piece kit @ Amazon.com)
Chances are you spend a lot of time inside, whether you're in a cubicle or on your couch. So when you do go out in the sun, your skin is as sensitive as a moody vampire's, meaning you burn easily. Well, you can kill six birds with one stone thanks to this kit. You get skin cleansers, treatments, and an SPF 55- lotion that'll help you fend off the sun's UV rays. In the end, all that's important is that your face won't get nuked.


Next: For Your Gross Nails