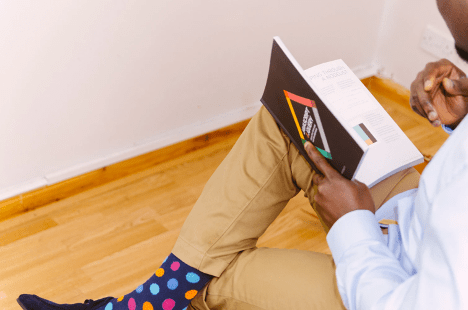 Today, more than ever, fashion is a big part of life and not just any mainstream trend that pops up every season. Personal, distinctive, and individual style trends are what counts the most. New and emerging fashion design movements are trying to give a novel and fresh look to ordinary clothes, giving us a way to stand out. And socks are no exception. Aside from the fact that they are essential for your feet's overall health, socks today are more and more cherished as the number one piece of clothing, especially for men, that can add a refined statement to any outfit.
That said, if you are looking to revamp your sock drawer beyond overlooking socks' aesthetics and function, this article is for you.
Why are socks experiencing fashion revamp?
There are plenty of good reasons why socks have been big in fashion for a few years now. First of all, they are a necessity which is simple to apply and affordable to buy. They are imperative for protecting your feet by helping prevent the rubbing of shoes, absorbing moisture, cushioning to pad the feet and keeping them warm. You get it, we all need socks! Second, according to fashion designers, socks are the best way to grab attention (and we mean that in a fresh and exciting way) in a men's outfit. Why? Simply because a significant portion of men wear dress pants from which socks peek through and show the majority of the time. So, as we see, due to their versatility and usefulness, socks are today in their prime. Whether you prefer fun socks, quality, cozy, or no-shows socks, we think it is about time for you to jump in the sock club and enjoy new and stylish socks every month, on autopilot. After all, they are a quite affordable way to achieve a polished outfit appearance.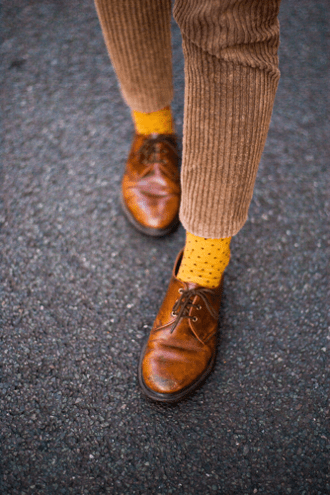 Socks as an attention-grabbing piece
Every refined and stylish look must have a central (and unique) piece, around which you build the rest of your outfit. Socks are perfect for playing this role, due to their particular position. They are partially covered by shoes and often pants, so you can go bold and creative as much as you like. However, bear in mind that you need to keep your outfit simple and the other accessories neutral. That way, you will be able to achieve an elegant and statement look. Ultimately, the idea is for your socks to stand out!
For example, avoid wearing pants and socks that are in the same color. You can not get a statement there because it does not contrast to the rest of your outfit. Try hooking up opposite colors like, for example, orange socks and green pants. Or try matching patterned bright color socks with jeans. Contrasting combinations attract the eyes, and well, make you look fashionable. If you are a beginner, try solid color socks, such as brown, green, and purple, which match most of the formal and casual outfits. If you want to experiment, and be visible even from far away, opt for cool colorful socks or socks with vivid applications. To add a bit of edge to your streetwear, embrace your sports socks. Nevertheless, before you put them on, reconsider the occasion you are going to. Some events are more toned down than others.
When you want your socks to be an attention-grabbing piece, you also need to pay attention to your shoes. The perfect-matching ones must complement your socks and help them stand out even more. For example, casual shoes for a big event or sneakers in neutral tones can work great with colorful or strikingly patterned socks. Or if you want to spice up your work attire, try crazy socks with dress loafers. Moreover, if you feel extra inspired in 2020, wear socks with sandals. According to styling experts, this combination is now in, as long as it is clear that it is intentional.
Socks as a complementary piece to your accessories
For the more conservative men reading this article, this part will be more comforting. One of the basic rules in men's fashion is that socks should complement the rest of the accessories you have chosen to wear with your outfit. Though in this setting, they can be a small detail, keep in mind that socks can either pull your outfit together or become an undesirable distraction. For example, if you are keen on showing your new watch, and its face is a distinct color, coordinate it with a pair of socks matching that color. If you are wearing a tie, choose socks of the same color (or pattern), so you can achieve a matching symmetry. In both cases, by coordinating your socks with your selected accessories, you give your complete attire a refined look, without one or the other stealing the show.
Final Thoughts
In most cases, there is usually no second-guessing when it comes to choosing and buying socks. However, assuming that you want to start using them to achieve a more stylish and refined look, you must become confident in trying new patterns and colors. Go the extra mile and find some new solid colors to wear to work or some with bold themes for the next party you are attending. Believe us, socks are a fresh and easy way to express your personality, confidence, and style. In time, matching them with your favorite clothes will become an easy and fun task. Yet, keep in mind that having a few to choose from that work well with multiple outfits is probably the smartest solution.