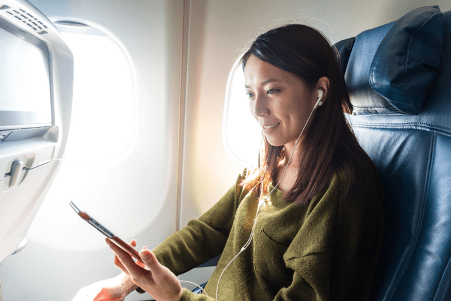 There's nothing quite like traveling by air. Flying on a plane can be one of the most invigorating experiences of your life. But it can also be an exhausting ordeal.
Many things like long TSA lines, overpriced food, and checking in luggage can cause a great deal of stress. A lot of travelers suffer from jet lag after a long haul flight. Whether you're leaving for a vacation or a business trip, feeling tired or stressed is not a good way to start.
If you're preparing for your next travel, here are some tips to have the best flight. Read on for some great long haul travel tips.
1. Take Melatonin
Jet lag refers to the delayed time between our internal body clock and the time of our current location. You may also experience a similar effect of jet lag after changing work shifts. Your body needs to adjust to how it perceives time.
Taking melatonin can help you overcome jet lag. Some places require a prescription to get melatonin, so be sure to consult your physician. Remember to buy the appropriate dosage of melatonin.
Melatonin can help, but taking the wrong dosage could work against you. If you're new to melatonin, consider trying them a few days before your flight. The effects of melatonin can vary from person to person.
2. Choose Your Airline Wisely
Does your airline matter when booking a flight? Yes, it does! Some airlines offer better flight schedules and luggage allowance.
Be sure to do your research when choosing an airline. Take note of their services, packages, loyalty programs, and rewards. Your choice of the airline could define the quality of services provided to you.
Customer service, performance, and airport locations are crucial aspects of choosing an airline. If you plan on taking an international flight, choose an airline with a large route network.
Part of the best flight is your seat. Aisle seats can provide the most comfort, but window seats offer the best views. Learn more seat hacks at https://www.everlastingcomfort.net/blogs/comfy-reads/make-flying-comfortable-airplane-seat-hacks-for-long-flights.
3. Keep Yourself Entertained
Some airlines provide free movies and music during long-haul flights. But be sure to come prepared with your own source of entertainment! Before you leave home, remember to download your favorite movies or music playlists.
In-flight entertainment systems may stop working in between flights. Before you leave for your flight, make sure that all your devices are fully charged. We also suggest that you bring extra batteries or power banks in case you run out of battery during the flight.
4. Stay Hydrated
To enjoy an easy flight, bring a reusable water bottle and remember to keep yourself hydrated. Hydration is important for long flights. Water is good, but experts recommend drinking electrolyte solutions like Gatorade.
Staying hydrated is especially important for people with medical conditions. Avoid drinking alcohol the night before your flight. Also avoid drinking diuretics like coffee, soft drinks, and chocolate. Immobility and dehydration can put you at risk of deep vein thrombosis. Make sure to hydrate well the night before your flight to ensure you have the best flight.
On this note, make sure you bring your own alcohol or sanitizer. Planes are full of bacteria and germs that could get you sick. Studies show that airline water is full of bacteria.
To avoid catching a cold or the flu, bring your own bacteria-killing wipes. Wipe down your seat well and wash your hands regularly.
5. Wear Proper Clothing
To achieve a comfortable flight, make sure to wear comfortable clothing. Choose breathable and loose-fitting clothing so that you can move freely. Consider wearing slip-on shoes to achieve maximum comfort.
Consider dressing layers, especially if you're going through extreme temperature changes. A pair of compression socks can also be handy to avoid blood clots. Make sure to bring a comfy hoodie in case the plane is cold.
If you wear contacts, consider changing them with glasses for the duration of the flight. Wearing contacts for 14 hours straight is dangerous to your eyes.
6. Bring Your Own Snacks
It's a well-known fact that airport food is expensive. While some airlines offer snacks and meals during long haul flights, try to bring your own snacks. Before boarding your plane, consider stocking up on some healthy TSA-approved snacks.
If you want to be a good neighbor to your seatmates, choose a snack that doesn't have a strong scent. Choose a small but healthy snack like almonds or a protein bar. Here are some other TSA-approved snacks to consider bringing with you on your next flight.
Trail mix
Beef jerky
Protein bars
Instant oatmeal
Veggies and hummus
Salad
Sandwich or wrap
Cheese and crackers
Yogurt
Fruits
Pretzels
Cookies
Pastries
Gums
Chips
Bringing your own snacks ensures that you don't go hungry on your next flight. You can also save money and trouble by bringing your own snacks.
7. Stay Active Through Layovers
If your layover ranges from one to five hours, it is a good idea to stay active and walk around. Layovers are a great opportunity to stretch and walk around. These help you counteract all your hours spent sitting on a cramped plane seat.
Take care of your body by giving it the chance to breathe during your layovers. Before you decide to walk around, locate your next gate, and confirm that your flight is on time. You can track your flight status with monitors around the airport.
Some airports have gardens, art displays, and even massage chairs! Before you hop back into your plane, make sure you give your body ample time to stretch.
Experience the Best Flight Ever
Now you know some great tips on how to have the best flight ever. Following these seven tips can help you guarantee an easy and comfortable flight. We value your safety and comfort.
Check out and read our other blog posts to learn more valuable travel tips and tricks. Continue reading to discover more great content tackling entertainment, technology, and sports right here!