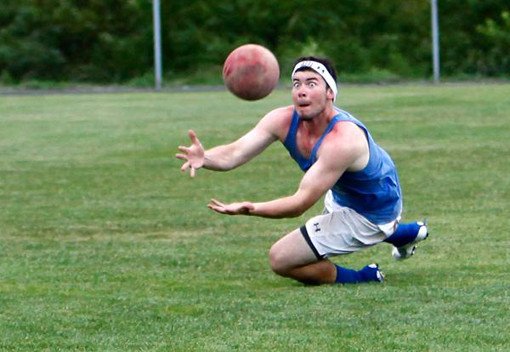 3. Scout a Location & Convenient Time slot
Once you've assembled enough interest, you need to scout a location to play. While a local park is usually your best bet, you might not always have the spot to yourself. Thankfully, kickball doesn't require too much space to play. If you're looking for something a little more secure, try asking around with friends who play in soccer or softball leagues to see what fields they use. Get the contact info and see about booking a convenient weekly time slot.
4. Make T-Shirts
No team would be official without their team uniform. Order customized T-shirts with your team name and whatever number each player wants. Online T-shirt design companies like RushOrderTees are a fast and affordable way to get your team uniforms ready to go. As you expand your league, new teams should opt for their own colors to keep everything clear.
5. Purchase Equipment
Last but not least, it's hard to play kickball without the ball. Kickball isn't equipment intensive, so it shouldn't be too hard to find everything you need at Sports Authority. You'll need a rubber ball, preferably red with a circumference around 10 inches, and four bases arranged like a baseball diamond. The bases could really be anything weighted, but you might as well splurge and make your set-up look official.
Starting your own adult kickball league can be a fun way to bond with friends or coworkers and meet new people. Follow these five simple steps and you'll be playing in no time!