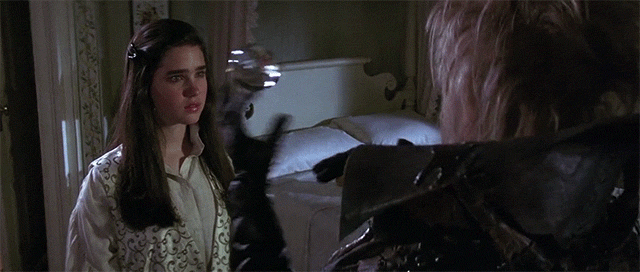 If you were a kid in the 1980s then you definitely saw Labyrinth (1986) — and it definitely scared the living piss out of you. The story of a 15-year-old brat cursing out her infant brother and then having to speed through a labyrinth in a spooky town filled with weirdo creatures and weirdo people — ahem, David Bowie — in order to save him.
Double-crossing, misshapen goblins, Bogs of Eternal Stench (think 1,000 farts trapped in your nostrils at all times), a walking carpet that could rip your arms off, and an anthropomorphic fox are just a few characters. Bowie recorded five songs, many backed by director Jim Henson's puppet creations, and the film eventually went on to join Troll 2 and The Room as fan favorites. For those who appreciate Labyrinth as much as we do, here are are eight interesting facts about the film …
#1: Jareth the Goblin King (David Bowie) was as adroit at working his crystal balls as a Globetrotter could twirl a basketball. Of course, Bowie wasn't the one controlling them. For that, producers recruited juggler and choreographerMichael Moschen — and he was slick about it. Moschen had his arms around Bowie as he handled his balls (heh heh).