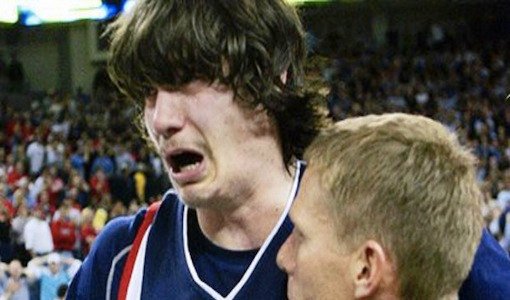 March is arguably the best time of year to be a sports fan. We're treated to what is unquestionably the most exciting basketball all year, and what may very well also be the most exciting games of any sport all year. Plus, it's really, really easy to bet on it, which is why there are as many NCAA tournament pools as there are loosely connected groups of people to submit brackets to them.
That said, let's face it — the odds that the team you choose to win it all will be the ones shows celebrating in slow-motion at the end of "One Shining Moment" are awfully slim. Sixty-eight teams qualify for the dance, and 67 of them lose. So if you think you've picked the winner this year, you may want to review these highly scientific reasons why you haven't.
WEST
1 Gonzaga
We love the Bulldogs' moxie, but let's face it: There's a reason why the defining March image of this former Cinderella and current No. 1 is Adam Morrison bawling his eyes out after blowing a chance to win. They're chokers.
2 Ohio State
Yes, Aaron Craft is one of the best defenders in the game. But the Buckeyes just don't have enough offensive punch to make it all the way.
3 New Mexico
While the Lobos have some flashy stats and big-time coach in Steve Alford, they've stunk in recent tournaments against good teams.
4 Kansas State
K-State is in Manhattan, Kansas. And as anyone who has been there knows, there is not a less accurately named town in all of North America.
5 Wisconsin
The Badgers have one guy rocking a red Jewfro, and another sporting a Kid 'n Play hi-top fade. What does that have to do with winning and losing basketball games? Everything.
6 Arizona
The Wildcats started the season 14-0. Nice! They finished the season 11-7. Yeesh.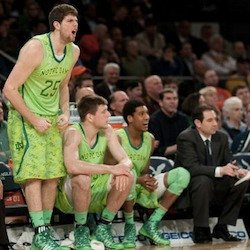 7 Notre Dame
Sorry, Fightin' Irish. The Bible defines the highlighter-green uniforms you wore in the Big East tournament as "abominations." Therefore, Touchdown Jesus shall not let you win the Tourney.
8 Pittsburgh
The Panthers are notorious Tournament chokers, so they won't "steel" the championship! Get it?! 😉
9 Wichita State
No team that shares its nickname — the Shockers — with a Dane Cook bit will ever win the Tournament.
10 Iowa State
The Cyclones are fourth in the nation in scoring, which is just terrific. But in March, you actually need to know how to play defense if you want to win.
11 Belmont
It's Vince Gill's favorite basketball team. Let's just say we got a thing against Vince Gill …
12 Ole Miss
The Rebels' trash-talking best player, Marshall Henderson, is far more likely to get a punch in the face than a Tourney championship.
13a Boise State
Until they paint the basketball court an eye-searing shade of blue, they're not going anywhere.
13b La Salle
The Explorers are a trendy upset pick. And what makes a trend a trend is that it doesn't last.
14 Harvard
Harvard students already have enough nice things.
15 Iona
The Gaels start off the Tournament playing Ohio State … in Ohio. Nice work, NCAA.
16 Southern
The Jaguars have been to the tournament eight times. They're 1-7.